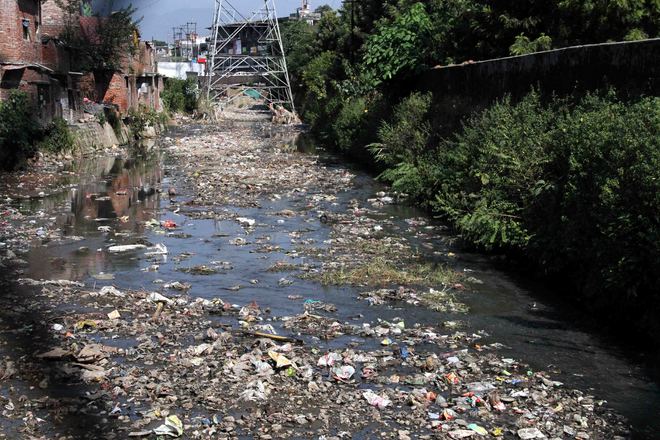 Jotirmay Thapliyal
Tribune News Service
Dehradun, October 11
Downtown Dehradun city lives between two rivers, Bindal and Rispana. The two rivers that are part and parcel of the city's life are horribly polluted. A few people know that all the dirt and filth that gets collected in these two rivers finally goes into the Ganga.
The two rivers after criss-crossing Dehradun city meet the Suswa river at Ramgarh at the Rajaji National Park. The Suswa finally merges with the Ganga. The Suswa, an important tributary of the Ganga, carries all dirt and garbage into the holy river.
Significantly, the water in the Suswa in the Rajaji National Park is so polluted that there has been instances of elephants eating plastic waste, which was later found in their dung and is suspected to be causing intestinal problems in them. This amply reveals the level of pollution in the Suswa that draws much water from the Bindal and the Rispana and finally merges with the Ganga.
Former Director of the Rajaji National Park SS Rasaily admits that pollution in the Bindal and Rispana rivers affects the water quality of the Suswa, and adds to contamination of Ganga waters. "Sewage and garbage dumped into the Bindal and Rispana rivers ultimately flows into the Suswa. The Suswa stinks like a dirty drain in dry months. Effluents in the Suswa are harmful for the environment and the wildlife and they end up polluting the Ganga," asserts Raisaily. He adds that clean Bindal and Rispana rivers will ensure a cleaner Suswa and ultimately a cleaner Ganga.
While both Bindal and Rispana rivers play a key role in speedy draining out of rainwater from the city and also add to Dehradun's riverine beauty, these today house illegal settlements and all garbage and waste of the city.
Abhijay Negi, founder president of students' NGO Making a Difference by Being the Difference (MAD), who has been in the forefront of a campaign for the revival of both Bindal and Rispana rivers, calls them the lifeline of Dehradun city. MAD had in a recent survey of the Bindal found domestic waste, effluents, plastic waste, carcasses and human excreta in it. The MAD volunteers trekked 40 km along the two rivers and recorded their findings.
The two rivers are dotted with illegal settlements. According to an estimate, nearly 50,000 persons are living on the banks of the Bindal alone and an equal number live along the Rispana in illegal settlements. Even the Bindal riverbed has been encroached upon, posing a serious environment hazard. These people face constant dangers of epidemic breakout and heavy casualties in case of flash floods due to heavy rains.
The state government has also realized the importance of these two rivers. Chief Minister Harish Rawat has directed Urban Development Department officials to prepare a project report for the beautification of the Bindal and Rispana riverbanks. He has sought a survey of the two rivers and directed the officials to remove encroachments from the riverbanks.