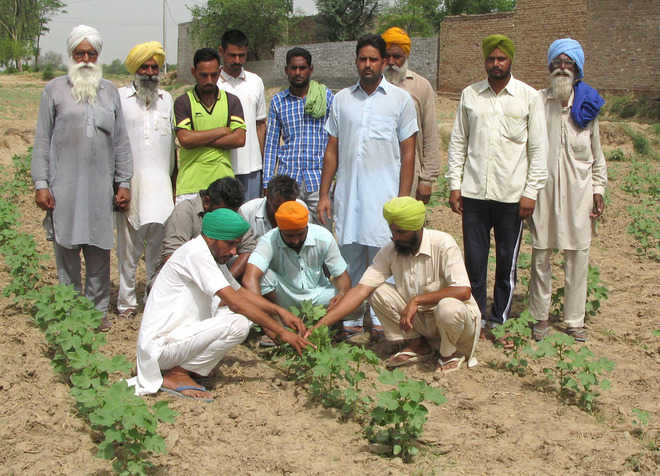 Sanjeev Singh Bariana
Tribune News Service
Bathinda, June 2
The bonanza of tubewell connections to farmers in the election year has led to scores of farmers avoiding cotton plantation this year. The area under cotton plantation has decreased from 3.39 lakh hectares to about 2.6 lakh hectares this year.
The state government announced 1.65 lakh tubewells connections in this budget. Till date this year alone, Bathinda has given more than 5,000 connections. Things are not different in the entire cotton belt of Bathinda, Mansa and Fazilka.
Chief Engineer (West Zone) Mohinder Singh Brar said, "Giving fresh tubewell connections is a top priority with the department at the moment. We have released approximately 5,000 connections this year. We are releasing about 1,000 connections per month in the district."
XEN (PSPL), Mansa, Parampal Singh said the department would release more than 1,500 connections this month. Fazilka district has released more than 600 connections recently.
Reflecting on farmers sowing at least 70,000 hectares less of cotton compared to last year, farmer Charanjit Singh of Tungwali, who ploughed his cotton crop, said, "We still have a fortnight to plant paddy. With government giving tubewell connections, I thought of planting paddy instead of risking a whitefly attack as there were some rumours in this regard."
Director (Agriculture) Jasbir Singh Bains said, "We have reports of farmers ignoring cotton and sowing paddy. Till the government ensures good or stable remuneration on crops other than wheat and paddy, it will be difficult to goad farmers to plant anything else and make an ambitious plan for diversification."
Didar Singh, a resident of Kot Shamir vilage, said, "In the wake of my failed cotton crop last year, I did not plant cotton this year. My cousins, too, chose not to plant any. We don't have any guaranteed cotton price."