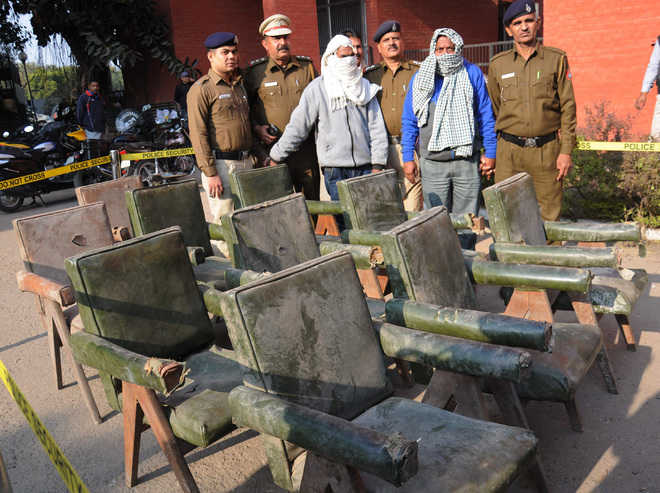 Tribune News Service
Chandigarh, February 2
Almost 15 days after heritage furniture was stolen from the storeroom of the Government College of Art, Sector 10, the police have cracked the case with the recovery of 10 chairs and the arrest of two persons, including a junk dealer.
Four other suspects, including two women, are at large. The junk dealer was contacted by a person from Mumbai, who expressed the desire to purchase heritage furniture.
Fifteen heritage chairs and a table were stolen from the college on the night intervening January 18 and 19 between 3.30 am and 4 am. The theft came to light in the morning.
Sukhchain Singh Gill, SSP, Chandigarh, said the two arrested had been identified as Faquir Chand, a junk dealer and resident of Kansal, and Sunil Kumar, a resident of Bhaskar Colony in Sector 25.
The SSP said on the day of the incident, two women, Sweety and Shakila, both residents of Sector 25, entered the college campus and broke the locks of the storeroom. "The two women brought the furniture outside the storeroom and called Anil Kumar, who owns a mini-truck, to transport the stolen furniture," the SSP said.
Anil Kumar, along with Sunil and Rajesh, arrived at the spot and transported the furniture. "Five chairs each were taken away by Faquir and Sunil, which have been recovered, while the remaining five chairs and a table are suspected to be with the two women, who are at large," said Inspector Neeraj Sarna.
Police officials said once the two women were arrested, they would come to know whether they were also behind the theft of heritage furniture at Le Corbusier Centre in Sector 19.
How police tracked the thieves
The investigating team analysed the dump data of mobile phones active in that area during the wee hours and shortlisted around 150 numbers. The police tracked the mobile number of one of the woman suspects who had called up Anil Kumar, owner of the mini-truck.
Some insider involved?
The police are investigating how the two women came to know about the heritage furniture lying in the storeroom of the college in Sector 10. Police officials said the role of some insider could not be ruled out in the theft.
Police to track antique smugglers
The arrest of the junk dealer for the theft of heritage furniture has once again pointed towards a well-knit network of antique dealers who smuggle furniture out of the country and sell it in the international market. The UT police said they would track the network of people involved in smuggling the furniture.
Top News
Last month, the US District Court Central District of Califo...
Upadhyay was hit on her left thigh and was admitted to a pri...
According to the woman officer, she had searched for a groom...
Gursimran Singh, 29, recently lodged an FIR with the distric...