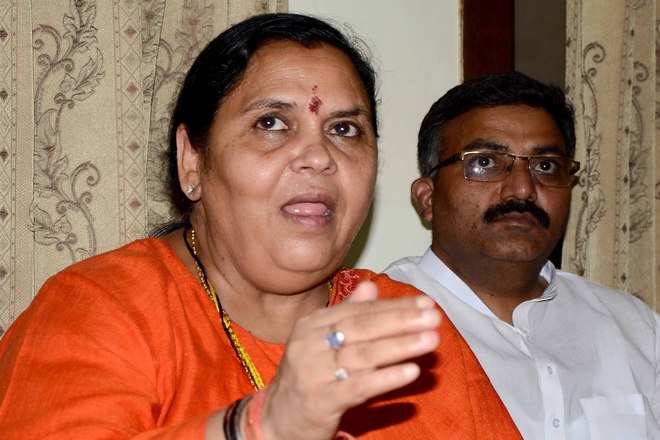 Tribune News Service
Haridwar, May 19
The much-touted Namami Gange project, which was allocated Rs 20,000 crore by the Union Government recently, will complete its first phase by October 2016 and on-ground Ganga rejuvenation work will begin.
As per Ganga Rejuvenation-Water Resources Union Minister Uma Bharti, Clean Ganga drive will show its initial results by October 2016 and within a span of 7 to 10 years, the Ganga will be cleaned.
In Haridwar today to inspect the sewer nullahs pouring directly into the Ganga, Uma Bharti said tapping of sewer nullahs is a major step in ensuring a clean and sanctified Ganga.
The Union minister allocated Rs 80 crore for expansion of the Jagjeetpur-based sewage treatment plant in Haridwar and has sought proposals from the respective departments for Kassaban-Jwalapur and Lakshar sewer nullahs in Haridwar district.
On the dissatisfaction of the apex court over Clean Ganga projects by the NDA government, Uma Bharti said the court had only taken record of Ganga Action Plan 1 and 2 during the Congress rule.
"The court should give us some time as just a year has passed since we came to power. In the first year, our government and ministry did file work, chalked out plans, strategies, expertise and inspected foreign rivers, who were treated like Thames - which took 30-40 years for its restoration. Public indulgence is imperative as government alone cannot make holy Ganga-Yamuna and its sub-tributaries totally clean. In 7 to 10 years, the Ganga will be cleaned, which is our assessment," said Bharti.
Bharti also announced formation of Ganga Volunteer Code, under which volunteers will be keeping a tab on Ganga cleaning efforts.
Also, the Territorial Army has been approached by Ganga Rejuvenation Ministry to cooperate in Ganga cleaning drive, to which the Territorial Army has given consent and soon, deployment of Army personnel at sensitive points along the holy Ganga will be done.
Bharti also stated that now, official file work has been done regarding Ganga cleaning and she will now herself spend three days in the field - Ganga river sites - to identify nullah-sewers, which will be treated and closed in the coming years.
"Urban planning has been very poor in our country as the river was never considered in our urban planning. Due to this, sewer-nullah gets directly into the holy Ganga-Yamuna without getting treated. Tapping nullah at the point where it mingles in the river is not the solution, but treating it from its original and middle point is the long-term solution," said Bharti.
On the upcoming Ardh Kumbh fair to be held in Haridwar, the Union Minister assured that her Ministry will cooperate fully with the Uttarakhand government and has also sought a proposal related with the Water Resources Ministry from Chief Minister Harish Rawat.
Though she denied any political ploy in delay of Ardh Kumbh budget by the Central government, saying Prime Minister Narendra Modi had already categorically stated to all Union Ministers that politics should not come in the way of development.
On interlinking of rivers project which was envisaged by former Union Minister Hemwati Nandan Bahuguna and Prime Minister Atal Bihari Vajpayee, Bharti said the Congress-led UPA government did not take any step in this regard, but she has now initialised meetings and dialogues in this regard as this will pave way for uniformity of river water in all parts of the country.
Top News
Eye on China, reiterate commitment to ensure free, open Indo...
Rubbish reports of their withdrawal from protest
Puri Vande Bharat 1st passenger train to run on restored tra...
PGI 2nd best medical institute after AIIMS-Delhi; PU slips t...
Says world paying price for wrong policies of some developed...