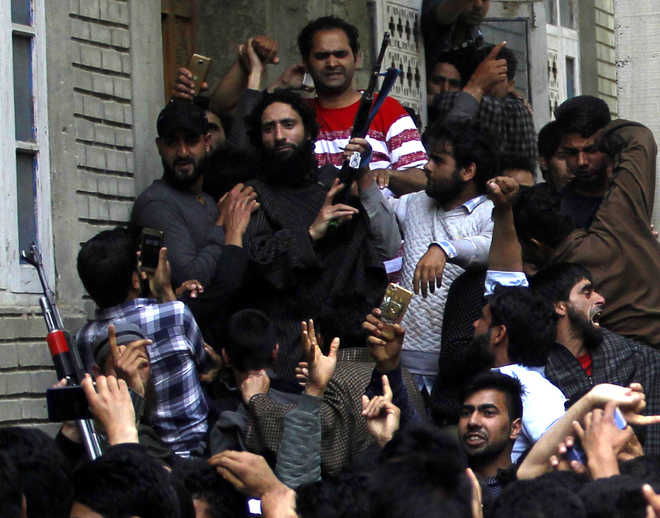 Azhar Qadri
Tribune News Service
Srinagar, May 9
The signs of a serious ideological drift in Kashmir's militant movement are deepening with every new statement from the insurgent camp and is creating unease within the traditional separatists bloc.
The young militants, who enjoy an unprecedented popular support and who have started to speak for themselves through brief video and audio messages circulated over social-media sites, are quickly redrawing the ideological landscape of separatism.
The militants are utilising the new-found power of images and words to carefully demonstrate their ideological leanings, which has pitched them against the three key separatist leaders.
In a series of videos released over the past few months, militants have rubbished nationalist struggles and vowed to fight for a pan-Islamist cause. They have posed for pictures before black flags – symbol of global jihadi groups — and trashed the waving of Pakistan flags.
Separatist leaders Syed Ali Geelani, Mirwaiz Umar Farooq and Yasin Malik, who have been rivals for many years and had formed a loose issue-based alliance last year, sent out a strongly worded retort to this emerging pattern in the militant ideology.
"The freedom struggle of Kashmiris is exclusively a local movement and its first and last goal is to end India's forcible occupation. It has no other dimension and it has nothing to do with global movements," the separatist trio said in a joint statement yesterday.
The separatists, two of whom base their politics on pro-Pakistan agenda, said that no one would be allowed to create "anarchy and lawlessness" as their statement claimed that any new ideology was a plot of intelligence agencies.
The joint statement from the three separatist leaders is almost a repetition of 2015, when the Geelani-led faction had blamed intelligence agencies for the attacks on the telecom sector, which were claimed by radical group Lashkar-e-Islam. Geelani's allegation was proven wrong when Hizbul Mujahideen's Pakistan-based chief Syed Salahuddin had acknowledged that its rebel commander Qayoom Najar was carrying out the attacks and announced suspension of his membership from the outfit.
The dispute between Geelani and Lashkar-e-Islam had reached a climax when militants affiliated to the radical group barged into Geelani's residence and questioned him about his statements and finances.
The latest show of drift in militant ideology and the reaction of the separatists are appearing to be almost similar to the long face-off of the 2015 summer.
This time, however, it is Zakir Musa, a former engineering student, who is commanding militants in south Kashmir's Tral sub-district. His last two videos had inclusion of symbolic elements: pictures with quotes of Anwar al-Awlaki, Al-Qaida's online preacher who was killed in the US drone attack in Yemen.
In his most recent audio statement, Musa even apologised for a statement made by his fellow militant, who had praised Pakistan's former army chief General Raheel Sharif. "I apologise for that. He had said it by mistake and he has regretted saying it." Musa said in remarks that mark the most severe disconnect between the new-age militants and the Pakistani establishment, which has been backing the region's traditional separatism.
This militant drift towards the global Islamism has placed the traditional separatists in a quandary and has left them with difficult choices. So far, the separatists are treading carefully, trying not to name the new militants in their criticism and preferring a language of vague allegations and attempting to make this new trend look conspiratorial.