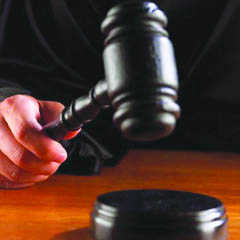 Sandeep Rana
Tribune News Service
Chandigarh, April 27
Two managing directors (MDs) of Unitech Limited — Ajay Chandra and Sanjay Chandra — were today awarded three-year imprisonment and a fine of Rs 10,000 each for defying the State Consumer Disputes Redressal Commission's order for returning the cost of a residential unit to a consumer and paying a fine. The firm has also been imposed a penalty of Rs 10,000.
The court has also issued non-bailable warrants against the Chandras, "returnable" for May 30, to undergo the sentence awarded to them.
In an order issued last year, the commission had directed the duo to refund the amount of over Rs 49 lakh within two months, along with Rs 3 lakh compensation and Rs 50,000 litigation fee, to the complainants, Varun Bakshi and his wife Mandeep Sangha, at present residents of Delhi.
"They defied the order with impunity. Under these circumstances, for wilful disobedience of the order....they are sentenced to undergo three years of simple imprisonment and pay a fine of Rs 10,000 each..," said the order of the commission, headed by Justice Jasbir Singh (retd).
In the complaint, the couple had stated that they purchased a residential unit for over Rs 50 lakh from the accused in Uniworld City, Sector 97, Mohali, on July 7, 2011. They paid over Rs 49 lakh, over 95 per cent of the total price. However, despite this, the possession of the constructed unit was not offered to them. Following this, they filed a consumer complaint last year, claiming the refund of the amount deposited by them along with interest, compensation for mental agony and physical harassment, besides the litigation expenses.