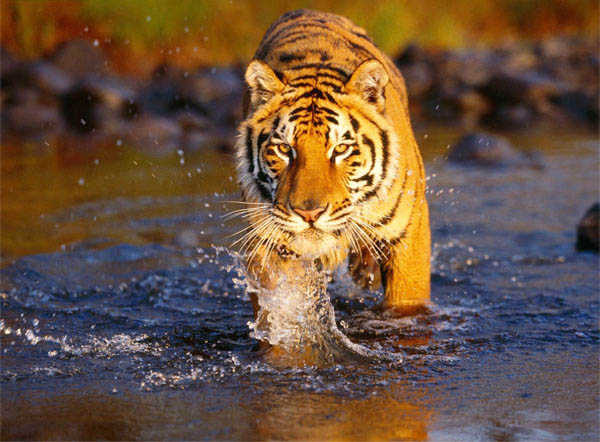 Jotirmay Thapliyal
Tribune News Service
Dehradun, September 3
Uttarakhand has space for just 100 more tigers. The state already has 340 tigers as per the latest 2014 All-India tiger census report.
The shrinking of space for tigers can also lead to rise in territorial struggle among them and also in incidents of man-animal conflict in the state. Tiger biologist Dr YV Jhala said that Uttarakhand's carrying capacity for tigers has reached the optimum level. The state, at the most, can accommodate 100 more tigers. He said the tiger population was thriving in the Corbett National Park.
"With Corbett and its surrounding territorial forests already packed with tigers, the only space left for tigers in Uttarakhand is in the west of the Ganga from Dhaulkhand till Mohand. The Haldwani and Nandaour Wildife Sanctuary are the other two spaces left in which some more tigers can be accommodated," Jhala told The Tribune.
Amid rising conservation efforts, there has been a steady increase in the number of tigers in Uttarakhand. The state had 178 tigers as per the 2006 tiger estimation report, which was the first camera-trapped-based tiger census exercise in the country. In the 2012 census report, the tiger population in Uttarakhand increased to 227. The population has further increased to 340 tigers in the latest 2014 census report.
The state recently notified Rajaji Park as a new tiger reserve, a step that is also aimed at bringing tigers to Rajaji from Corbett, the source of tigers in the state. The strengthening of the corridor between Corbett and Rajaji has also been suggested.
The Corbett Tiger Reserve continues to be most important habitat of tigers in the state. It has more than 200 tigers and the region has already witnessed territorial struggle among tigers due to space crunch. The Corbett tiger reserve has a tiger density of 18 tigers per 100 sq km, which is the highest in the world.
Ideally, in an adequately protected area like Corbett, a male tiger requires 50 sq km of territory while a female requires 15 sq km. In forest areas, a male tiger has 100 sq km of area while a female requires 50 sq km. Dr Saket Badola, Deputy Director, Corbett Tiger Reserve, said the strengthening of corridors and an increase in the prey base could be contributing factors in getting tigers to new spaces.
He, however, pointed out that the tiger, a shy animal unlike the leopard, was not in direct conflict with humans. Most of the man-animal conflicts involve leopards. The incidents of tigers attacking humans are rare. Ever since the formation of Uttarakhand, nearly 32 persons have died every year in man-animal conflicts.
Top News
2 others eject safely | Debris strewn across miles | Sukhoi,...
Congress leader will unfurl Tricolour at Lal Chowk City Cent...
Visit comes ahead of NSA chief's US tour
Sarpanches of Haryana to hold 'chakka jam' against Amit Shah...
9.5 lakh candidates had registered for the exam for 1,181 po...