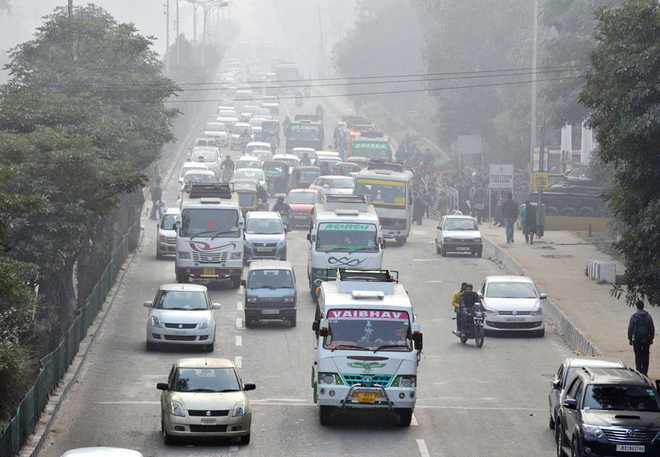 Tribune News Service
Jammu, January 14
The lack of coordination between the Pollution Control Board (PCB) and traffic police has led to delay in action against highly polluting vehicles in the city.
Air pollution continues to remain as the biggest cause of respiratory diseases among city residents.
Vehicles have to comply with the emission norms set by the government and they are being checked regularly by the authorised stations, established by the PCB, but many of the vehicles don't follow the norms. The government data says that 7, 96,493 vehicles have been registered in Jammu and Kashmir.
"The winter capital of Jammu and Kashmir appears to have been paying a heavy ecological price for ongoing development activities and it is emerging as one of the polluted cities in the country due to its compact size," said a PCB official.
State Pollution Control Board (SPCB) data maintains that the suspended particulate matter (SPM) and respiratory suspended particulate matter (RSPM) have witnessed a steep rise in the past two decades, mainly because of the increase in the number of vehicles and dust generated by the construction activity.
The SPM, normal limit of which is 100 microgram, is between 110 and 114 microgram in the city. The RSPM, normal limit of which is 200 microgram, is around 220 to 230 micrograms, indicating that the air quality is poor at most of the places in the city.
Top News
Also removed a full page on Political Parties from newly rel...
BKU spokesman Rakesh Tikait said final decision on issue of ...
Says the CM is protected at both these places by the Punjab ...
Said six specific cases pertaining to violent incidents to b...
The training aircraft, which took off from the air force sta...