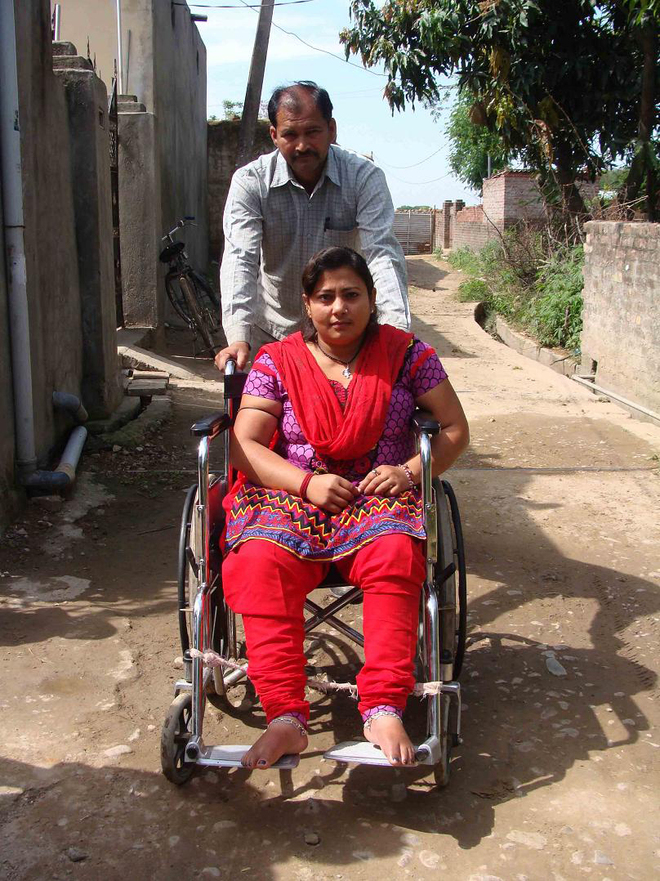 Vishal Jasrotia
Samba, July 29
Scores of people have been maimed due to cross-border firing and landmine explosions along border villages in Samba district. Forced to lead a scarred life, they have appealed to the authorities concerned to provide relief and other facilities to them.
Even after decades, people who had lost their limbs in landmine blasts and cross-border firing in Samba district have got no or inadequate compensation.
Vijay Kumari (26) is a victim of Pakistani shelling in Chachwal village in Samba. She was injured in 1996 when a Pakistani mortar splinter hit her, leaving the lower part of her body permanently disabled. The pain of shattered dreams frequently surfaces in her conversation.
"Everyday I feel depressed when I realise that I am no longer like others. I cannot walk on my own. I am still struggling to carry out my daily chores with the help of my family members. The authorities left us to God's mercy," she said pensively.
"At the time of the incident, only primary treatment was provided to me in Army and government hospitals. Thereafter I was left with disability and forced to lead a scarred life without care and concern from the authorities concerned," she said.
Sunil Kumar (28) of Bain Glad village was critically injured and lost his right leg in a landmine explosion some years ago. Now he walks with the help of an artificial limb.
"It hurts me to find myself dependent on others. My family had to borrow a huge sum for my medical treatment. Now my family is unable to repay the debts as we did not get any compensation," he said.
Another amputee, Pawan Kumar (24) of Sinki Chappadi village, unwittingly stepped on a landmine while grazing cattle. He lost his feet in the landmine explosion. He said the mine blast ruined his life as he wanted to join the security forces.
Pawan Kumar Sharma, Additional Deputy Commissioner, Samba, admitted that there was a need for a permanent rehabilitation policy so that firing victims could meet the challenges of disability they would face in life.
He said there was a provision of Rs 1 lakh as compensation in case of death and Rs 75,000 for permanent disability due to border conflicts and militancy related incidents. The government gave monthly scholarship of Rs 400 to disabled persons, he added.
Top News
Bills were passed after more than six hours of debate spanni...
Among the 10 who put in their papers are nine Lok Sabha MPs,...
Resignation of Union ministers also revived speculation of r...
The withdrawal of statement by MP Senthil came when the Hous...
The Punjab DGP office had written a letter to Rajashthan Pol...