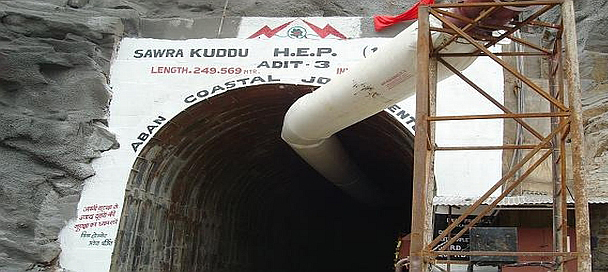 Kuldeep Chauhan
Tribune News Service
Shimla, May 17
Residents of Thana Plaun and Mandal villages, supported by the Himachal Kisan Sabha, have locked horns with Himachal Power Corporation Limited (HPCL) over the construction of a 500-m-long access tunnel to the head race tunnel of the much-delayed 111 MW Sawra Kuddu power project on the Pabbar river in the Hatkoti valley.
They fear that the additional tunnel will spell disaster for apple orchards and houses due to the impact of blasting as the proposed tunnel is located right underneath the village.
"But there are complaints that certain local influential individuals mark them present at the work site and get money without doing any work," alleged sources in the company.
Though villagers have formed a sangharsh samiti to oppose the construction of the tunnel, HPCL remains firm assuring villagers that its impact does not go beyond a few metres and is being constructed to speed up work on the much delayed project, which has been running five years behind schedule.
"The big landslide has occurred at the tunnel site and the proposed tunnel will impact the area as it was not the part of the project," claimed Sanjay Chauhan, a member of the Himachal Kisan Sabha, who has extended support to villagers' sangharsh samiti of Thana Plaun.
On the other hand, HPCL managing director DK Sharma termed villagers' apprehensions as ill-founded as the vertical distance of the village from the proposed tunnel is about 800 m and in no way would impact the village as the tunnel was small and had been cleared by the government.
DK Sharma said the HPCL team, accompanied by a scientist, had allayed the fears of villagers as Thana Plaun village was located at a safe distance of 600 m from the tunnel site. "Certain vested interests are misguiding some people as villagers who are more close to the site have asked us to speed up work on the tunnel," said HPCL engineers.
The project has been running almost five years behind schedule as the corporation has yet to construct the 1600 m length of the 11.36-km-long head race tunnel of the project.
As a result, the cost of the Swara-Kuddu has shot up by about 28 per cent from about Rs 900 crore in 2007 (when the project was awarded to HPCL) to Rs 1100 crore now, reveal insiders.
Though HPCL has decided to commission the project in June 2016, the project has been affected due to the workers' strike earlier and the slow pace of work and a fresh protest by villagers.
HPCL had terminated the tunnel contract to a company in January 2014 as it failed to achieve the construction target of the tunnel, said HPCL officials.
The company could complete the concrete lining of 1.64 km. "The powerhouse and dam works are complete and tunnel work has been awarded to a new company and will look into the complaints," DK Sharma said.