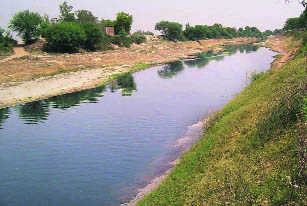 Amaninder Pal
Tribune News Service
Chandigarh, January 7
Although the Punjab Irrigation Department has been dismissing protests by residents of over 86 villages against a proposed dam on the Ghaggar, near Banur, as a "misplaced fear", a perusal of the river water flow data reveals that the fear of thousands of villagers is not baseless.
The construction of the dam was suspended after the villagers organised a massive protest yesterday.
The project funded by the National Bank for Agriculture and Rural Development (NABARD) will cost Rs 66 crore. The dam would allow drawing of around 130 cusecs to irrigate 15,000 hectares in villages located around Rajpura and Banur towns in Patiala district.
The project to construct a permanent dam was conceived in 2006. An agreement signed at that time between representatives of various villages located downstream and the Irrigation Department said these villages would get 200 cusecs to irrigate their fields.
However, villagers now fear that the dam would cut down the flow of water to their fields. Their claim is that the water flow in the river is much lower than 400 cusecs, as claimed by the department.
"The water discharge in the river is less than 400 cusecs. How will water reach our villages when they start discharging 130 cusecs in the Banur canal round the year," said Jaspal Singh of Basma village, who is leading the agitation.
The department, on the other hand, sticks its stand that the water flow in the river is sufficient enough to feed the canal and the villages downstream.
A perusal of the monthly average discharge data of the river for the past 10 years, however, defies the department's claim. It revealed that the average yearly discharge barely crossed 400-cusec mark over the past 10 years, excluding the peak period (July to September).
In 2015, the discharge crossed 400-cusec mark for just five months. In 2014, it was so only for three months (July to September).
Secretary to the Department of Irrigation KS Pannu and Chief Engineer (Canals) GS Wason could not be contacted for their comments despite repeated attempts. However, an executive engineer overseeing the project said, "The project was cleared only after a detailed study by the department's research wing. NABARD also conducted a separate study before giving the go-ahead for the loan. Discharge in the river is around 400 cusecs and it is sufficient to feed the canal and the villages downstream."
Top News
7 others, including Ahmed's brother Khalid Azim alias Ashraf...
Writes to Mohit Rajan, Deputy Secretary in the MS Branch of ...
Amritpal's counsel on the other hand contended that he was i...
Sukhwinder Singh ran a finance business in Manila for the pa...
During the intervening night of March 27-28, BSF troops dete...