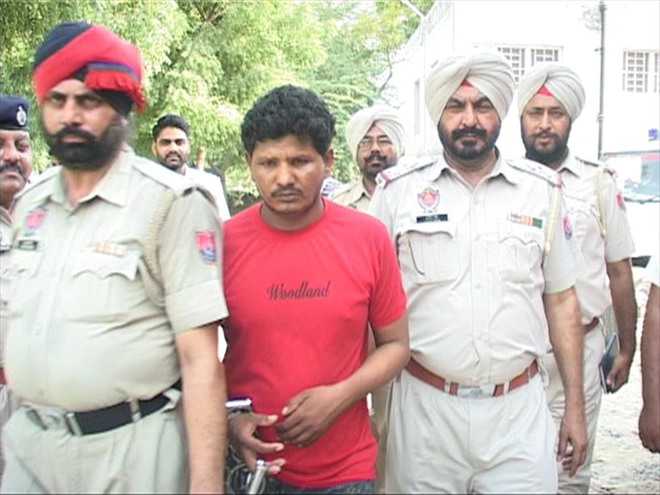 Jupinderjit Singh
Tribune News Service
Chandigarh, June 21
For Pakistani smugglers, pushing drugs into Punjab through the international border is a new form of jihad (holy war). This has been revealed by Ramzaan (32), a Pakistani drug smuggler who was arrested from the Sowana border outpost in Fazilka district on June 13.
He has told the Punjab Police that the smugglers are being motivated to spread the 'poison' in the border state to ruin the young generation of 'kafirs' (infidels).
Narendra Bhargava, Fazilka SSP, said, "The accused claims that he was reluctant to push drugs despite being offered Rs 5 lakh for an operation. However, some unidentified men brainwashed him into smuggling, saying that it was jihad too."
Ramzaan, a farm labourer and the father of four girls, has revealed that his accomplices Shaukat and Sulleman, who were shot dead by the police and the Border Security Force (BSF) last week, used to smuggle heroin to India once or twice a month. Shaukat, a landlord owning 30 acres, knew various entry points along Punjab, Rajasthan and Jammu borders, he told the police.
According to the police, this is the first time that a Pakistani smuggler has been captured alive ever since the state launched a multi-pronged war against drugs in 2014, even as 19 smugglers from the neighbouring country have been killed by the BSF and the state police in the past five years.
The police claim that drug smuggling was earlier considered part of narco-terrorism as smugglers were allegedly used by Pakistani spy agency ISI (Inter Services Intelligence) to transport guns or help terrorists infiltrate. Central intelligence agencies have been alerted about the 'drug jihad'.
Top News
Gehlot's written apology appears to be the tool to broker pe...
'Our priority is to win 2023 assembly polls in Rajasthan for...
Congress Legislature Party leader Partap Singh Bajwa demands...
Rape includes marital rape for purpose of MTP Act
Decision comes after review of perceived threat perception t...