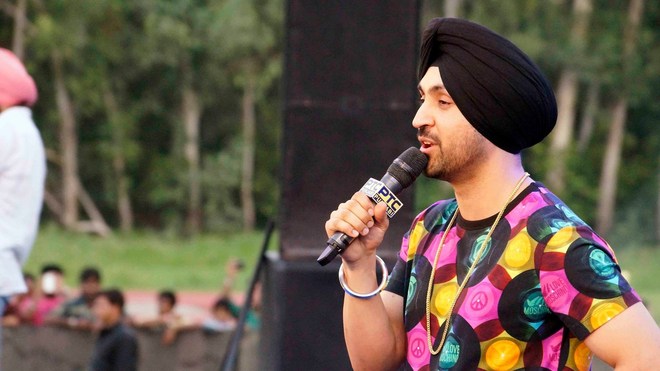 Jasmine Singh
The action consumed no more than a quarter of a minute. 'Cut'…'perfect', the echoing sound drags that smile all the way to the other ear. Youngsters and passersby frozen at their positions, actor Diljit Dosanjh returns to sit under the shade of an umbrella. He glances into the mirror, slides his hand on his turban; a slight touch up here and there, he looks around, lets the smile be and murmurs softly 'Waheguru.' Always and every minute grateful to the Almighty, the heartthrob and style icon of many, Diljit Dosanjh shoots a scene for his upcoming film Ambarsariya at the IT Park, Chandigarh, on Monday.
The sun has decided to shine at its brightest best, something Diljit is happy about. Like a wandering falcon, he has been touring the length and breadth of the country, seeing the sun shine, sometimes not shine for days together; he has seen the soft white flakes fall for days endlessly and the pitter-patter of rain drops cascading down his windows of his hotel room.
In Chandigarh, he warms under the heat of the sun and of camera lights as he collects himself to talk between the shoot; and talk is what he means, no cheat glances on his phone, which has been secured at a distance.
Clap sound
I have always maintained that I am in love with Punjabi cinema, it has given me a lot and there is no way I can ever say bye to it. Currently, I am shooting for Mandeep Kumar's Ambarsariya, which is, let's say, a drama. The films stars Navneet Kaur Dhillon and dance sensation of ABCD Lauren Gottilieb as the female stars. I am coming to Chandigarh for a shoot after a long time, it seems everything is the same;only this time I feel more people are cheering for me.
Next up
I share a great professional and personal rapport with the director of Jatt & Juliet and Punjab 1984. We are working on another project together; we are already started on it. The film will be produced by Balaji Telefilms. So, Anurag and I will be back soon.
Great going
I was told that I am the first Punjabi actor to have visited the head offices of Facebook, Twitter, Google and Instagram. Imagine the networking sites that have made the world shrink into a unit; I have had an opportunity to meet their staff. Some of them had actually heard my songs and seen me in films as well.
Tung Tung
Tung Tung is a fun, full-on Punjabi track, which has been picturised perfectly on Akshay Kumar in Singh Is Bling. The track has a flavour of Punjab and I loved doing it. I don't create aims or look at targets; if I am getting a good song in Bollywood, why not!
Looking out
For my next movie, The Return Of Sardaar Ji, we are looking for a girl who can of course act, but foremost speak Punjabi fluently.
Have I changed?
Even I am doing a Bollywood film Udta Punjab, or I feature in Coke Studio or that I am doing live shows across the globe doesn't change me as a person. It has taken a lot of dedication and the blessings of my family to reach here; I am only enjoying it with my feet held firmly to the ground. I still hang out with friends I always used to.
Brand bargain
It's like a privilege, something I wouldn't have thought of years back. However, it's a reality now. Currently, I am a brand ambassador for Coca Cola Punjab and Flipkart. And yes, I enjoy Coca Cola and have the Flipkart application downloaded on my mobile phone.
Phone a friend
My maximum calls go to my gym trainer.
New wardrobe
I don't know how to react when people say I am stylish. I have a lot of 49ers brand in my wardrobe though!
jasmine@tribunemail.com