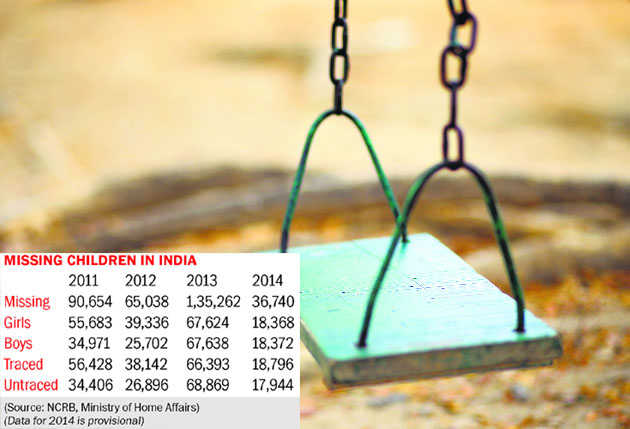 It has been seven months since 15-year-old Mohit returned home to Ghaziabad, but the nightmares about the life spent in Jaipur continue. For five years since September, 2009 when he fled home to escape the wrath of his father, Mohit had to double up as a beggar and ragpicker for survival. "Every time I returned with less than Rs 400, I was made to sleep on stones under a flyover near the railway station. I tried to escape, but failed. Finally, in October last year, a man in khaki came to the station and rescued me," says Mohit, among the few missing children in India who get reunited with their families.
Every hour, four children go missing in the country with close to half of them remaining untraced. Last year, 49 per cent of the 36,740 children who went missing could not be traced. The percentage of untraced children for previous years indicates a worsening trend. In 2011, 38 per cent of the 90,654 children who went missing remained untraced; the corresponding percentages were 41.35 in 2012 and 50.91 in 2013.
Worse still, despite the landmark Supreme Court ruling of 2013 mandating FIRs in all the old and current cases of missing children, gaps remain. Data on the government's TrackChild portal, launched in 2012 to match and find missing children by uploading their information on the Internet, shows that while 2,37,040 children went missing across India between 2012 and 2014, FIRs were lodged in only 1,41,605 cases. This represents only 40 per cent compliance on an indicator considered critical for the recovery of missing children.
Ghaziabad SSP Dharmendra Singh, who recently showed that a police force motivated to trace missing children could do wonders, says proper documentation and filling of information gaps is the key to tracing them. "The first thing you need is an FIR, the second a meaningful engagement with the parents and the third a high-resolution picture of the missing child. Police files normally contain old photographs of children in which they are not even identifiable."
These elements became the bedrock of Operation Smile, Singh's brainchild to trace missing children, which took the country by storm. Launched between September 24 and October 25 last year, Operation Smile is now a centrally-mandated drill for each state police department. The Ministry of Home Affairs has twice ordered Operation Smile like missions across India — the first between January 1 and 31 this year (which resulted in 3,000 kids being found) and again from July 1, christened Operation Muskan. It will conclude on July 31.
So what did Operation Smile do to become the talk of NGO and police circles? "For the first time in the history of India, dedicated teams of police officers were appointed only for the purpose of tracing missing children. Initially I was afraid to roll out the programme because I feared being castigated for sparing the police to find children, a low priority area. But I was lucky. Our officers visited over 15 cities, searched every shelter home, railway station, restaurant, cinema hall, religious place to locate the missing children from Ghaziabad," Singh says.
Seventeen police stations in Ghaziabad had 150 missing children FIRs (converted from the previous diary entries) when Operation Smile was launched last year. Police searches resulted in the recovery of 553 children, some from Ghaziabad and the rest from other districts of Uttar Pradesh. What shocked the policemen was the fact that 45 per cent of the missing children from Ghaziabad were traced in shelter homes across other Indian cities; 30 per cent from railway stations and 12 per cent from religious places. In 90 per cent of the recoveries, children had been missing for less than six months.
"For the first time we got data that showed how child shelter homes had become dumping grounds for missing children. These homes are violating Section 38 of the Juvenile Justice Act which requires them to restore a child to his or her family. Trend analysis revealed that the probability of finding missing children decreased exponentially with the passage of time. Hence the need for FIRs and prompt action," says Dharmendra Singh, whose teams have since been training police officials from other states to launch Operation Smile like missions.
Web portals for tracing children
The May 21, 2013 Supreme Court ruling on missing children was historic in many ways. Besides making FIRs compulsory, the court acknowledged for the first time the linkages between human trafficking and missing children's trends.
"In all missing children's cases, there will be a presumption of the crime of kidnapping or trafficking unless proven otherwise. Standard Operating Procedures must be developed to handle the cases and even after recovery of the missing child, the police shall investigate to see whether there is any involvement of trafficking," the Bench headed by the then Chief Justice Altamas Kabir said.
This judgment and earlier the national outcry in the wake of the Nithari killings led the Centre to launch India's first dedicated web portal for the recovery of missing children. TrackChild, monitored by the Women and Child Development (WCD) ministry in collaboration with the Home ministry, envisaged uploading by the police of information on missing and found children. Similar uploads were expected from child welfare committees, juvenile justice boards and child care institutions, agencies designated to handle children in need of care and protection as per the Juvenile Justice Act.
"The idea is to match the information on missing and found children on a centralised database. It has helped. But now we also have another portal, Khoya- Paya, which connects people to find missing children," says WCD Minister Maneka Gandhi, who launched it last month.
But questions remain on whether portals help trace children. TrackChild performance data shows that between January 1, 2012 and June 22, 2015, the police uploaded information on 1,41,605 missing children on the portal while only 55,660 were traced after matching their profiles. This marks a 39.3 per cent recovery rate through the portal, indicating slow progress but progress nevertheless.
It equally shows that the police registered only 1,41,605 FIRs between 2012 and 2015 (since only FIR information is uploaded on the portal), whereas 2,37,040 children were reported missing by the National Crime Records Bureau. More than half of all missing children are girls, indicating trafficking for labour, prostitution and other forms of exploitative work.
TrackChild performance review shows that only 9,424 of the 16,771 police stations in the country actually entered data on missing children between 2012 and 2015. Similarly, out of 617 child welfare committees, only 243 uploaded the data; out of 607 juvenile justice boards, only 243 uploaded and out of 5,335 child care institutions, 3,953 entered the data.
"Data entry remains an issue although progress is being made," says Bhuvan Ribhu, son of Nobel laureate Kailash Satyarthi, whose organisation Bachpan Bachao Andolan had filed the PIL on which came the ruling. Ribhu adds that FIRs are still not being registered even though the Supreme Court is monitoring the performance of the Centre and states.
That is not to say web portals don't help. They play a critical role in matching children's profiles in police records and those with child care institutions. "Implementation is the key. If only all the stakeholders take this job seriously," says Rishi Kant of Shakti Vahini, an anti-trafficking NGO.
The Khoya-Paya portal, meanwhile, has already helped locate 63 in the first month of inception. Any person with a phone can register and post on the website information about missing or sighted children. "We have received 2,359 registrations. In all, 299 missing and 314 sighted children have been reported; 63 are back home," says Aashi Kapoor, the incharge.
Resolve counts
Police and community organisations say most children who go missing either run away to escape the wrath of parents or lose their way having strayed too far.
In every case of a missing child, the presumption is one of trafficking or kidnapping, with the police now booking traffickers under the stringent new IPC Sections of 370 and 370A, which provide for punishment up to life for trafficking children. People who employ children knowing they have been trafficked for work are also liable for punishment.
Former Solicitor General Gopal Subramaniam, member of the Justice JS Verma Committee that was formed in December 2012 to review criminal laws related to sexual assault, says, "Tracing children has to be the Centre's priority number one. Half lakh children go missing every year. These disappearances create a culture of rape. We had recommended a census of missing children in every district."
The Home Ministry's January 31, 2012 advisory to states on missing children also acknowledged the link with organised crimes. "Whether these children land up in begging rings, prostitution, paedophilic rackets, organ trade or end up getting exported for camel jockeying, it's always organised crime. Profile of traffickers must be maintained at all police stations," it said.
What the Centre feared in 2012 has been repeatedly confirmed. As Mallika Banerjee, SHO of Jashpur, a tribal district in Chhattisgarh notorious for trafficking of girls, says, "We have rescued many of our missing children from homes in Delhi's posh localities, including Hauz Khas. Most of these children are girls. Traffickers lure them with the promise of better lives, sell them for Rs 50,000 to house owners, who use them as bonded labour."
Tracing children eventually boils down to the level of the police motivation to find them. As Ghaziabad SSP Dharmendra Singh explains, "I spent a lot of time sensitising my personnel for Operation Smile. They were moved only when told that reuniting a child with his mother was worth more than hunting down a murderer with Rs 5 lakh bounty. My constables are the new poster boys of UP police."
Top Stories