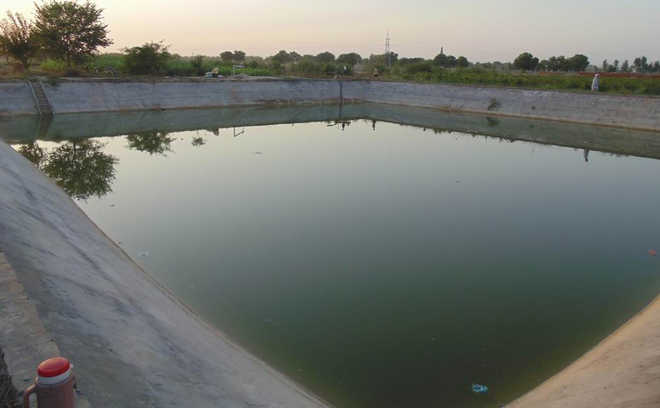 Bhanu P Lohumi
Tribune News Service
Shimla, September 18
As many as 150 water supply schemes with estimated expenditure of Rs 1716.59 crore under various components of Prime Minister Krishi Sinchai Yojana (PMKSY) submitted by the Himachal Government are awaiting approval from the Union Ministry of Water Resources (MoWR).
The state Irrigation and Public Health Department had sent shelf of 152 schemes to the MoWR but barring Shahnahar project (Rs 95.58 crore) and Siddhartha project (Rs 21.33 crore) in Kangra district under Command Area Development and Water Management Programme (CADWM) approval for the remaining schemes is awaited.
The shelf included 118 schemes under "Har khet ko Pani" with an outlay of Rs 351.04 crore with 28 schemes for Shimla district involving an expenditure of Rs 155.32 crore, 42 schemes for Kangra district costing Rs 81.05 crore and 13 schemes for Kullu district to be executed at an estimated cost of Rs 48.75 crore.
Further, six medium irrigation schemes costing Rs 1135.29 crore have been proposed for approval and funding under Accelerated Irrigation Benefits Programme (AIBP).
These include Medium Irrigation Project (MIP) Prini (Kullu) Rs 390.85 crore, MIP Nadaun (Hamirpur) Rs 156.31 crore, MIP Satyar Khud (Mandi) Rs 122.15 crore, MIP Sukha Har in Kangra Rs 153.06 crore and MIP Koncil (Mandi) Rs 108.51 crore.
The state government has also posed 23 minor irrigation schemes worth Rs 23.83 crore while five medium Irrigation schemes sent for approval under CADWM component involved estimated expenditure of 206.32 crore. The schemes under the shelf have been sent for inclusion/funding to the Government of India for 2016-17 and 2018-19 and the matter is being pursued with the Centre, a senior engineer of the department said.
Early clearance of these projects will go a long way in giving boost to agriculture. So far only 5.83 hectare of land is under cultivation and till date 2.64 lakh hectares of land, nearly 45 per cent, has been provided irrigation facilities.
The total irrigation potential of the state was estimated at 3.35 lakh hectares and the Shahnahar Project, the only major irrigation project in the state, has been completed and providing irrigation facility to 15,287 hectares land.
Command Area Development (CAD) works are in progress and 6,386 hectares land has been brought under CAD activities.
Out of the total geographical area of 55.67 lakh hectares, the area under cultivation is only 5.83 lakh hectares and the irrigation potential of the state is approximately 3.35 lakh hectares. Till date, 2.64 lakh hectares land has been brought under the irrigation facility. Shahnahar Project in Kangra district, a major irrigation project in the state, has been completed and is providing irrigation facility to 15,287 hectares.
Top News
Health Ministry launches probe into four alleged substandard...
Addressing a rally, Shah asks whether terrorism has ever ben...
MEA had reacted sharply to Ilham Omar's visit to PoK
Development in Himachal possible as people voted BJP to powe...
The Ministry of Defence spokesperson from Tezpur says the mi...