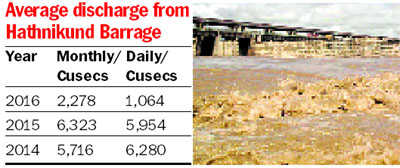 Sushil Manav
Tribune News Service
Chandigarh, April 25
Drop in water level of Yamuna has led to scarcity of drinking water in several districts, including Yamunanagar, Hisar, Bhiwani, Mahindergarh and Rewari. These districts are supplied water through the Western Jamuna Canal and other water channels emanating out of Yamuna.
The daily gauge slip of the Irrigation Department revealed the total water supply upstream of Hathnikund Barrage was merely 1,648 cusecs on Monday. Out of which, 761 cusecs is meant for the national pool, leaving 887 cusecs to distributed on 1/3rd and 2/3rd basis between Uttar Pradesh (299 cusecs) and Haryana (588 cusecs) respectively.
Due to soaring heat, the average discharge of water at Hathnikund Barrage on the Yamuna this month stood at 2,278 cusecs against 5,716 cusecs recorded in 2014 and 6,323 cusecs in April 2015.
The average discharge of water touched a record low of 1,064 cusecs twice today and 1,166 cusecs nine times in the past 20 days against average flow of 5,954 cusecs in 2015, 6,280 cusecs in 2014 and 5,055 cusecs in 2013.
The Supreme Court has directed the state to give Delhi its share of water irrespective of the quantum of discharge. The National Green Tribunal (NGT), too, has ordered Haryana to leave 352 cusecs in the Yamuna for to support aquatic life and other ecological reasons.
Angad Bishnoi, superintending engineer (SE), Public Health Engineering (PHE) Department, where 62 out of 235 waterworks get their water supply from Western Jamuna Canal (WJC), said the situation was very gloomy.
"Now, water is supplied for eight days followed by a closure of 32 days against earlier practice of eight days of supply and 24 days of closure. In the rainy season, 16 days of supply are followed by 16 days of closure," Bishnoi added.
In Bhiwani district, villagers have been sitting on dharna for the past 13 days in protest against acute water shortage in Siwani Mandi.
"As many as 30 villages of the district are facing serious water crisis. The situation might turn even worse than in Latur district of Maharastra," alleged Balwan Bagri, a protestor.
An Irrigation Department official admitted the situation was grim, but added the prediction of a good monsoon this year had raised hopes.
The problem is equally grave in the Bhakra system, though the supply is available to the state as per its demand.
The water level in the Bhakra Dam reservoir was recorded at 1,566 feet today as against 1,584.76 feet on April 25, 2014 and 1,585.61 feet in 2015.
The total inflow in the Bhakra Dam reservoir was recorded at 6,289 cusecs as against 9,516 cusecs in 2015. However, the outflow that determines the demand for water was recorded at 18,954 cusecs today.
The outflow was 7,800 cusecs and 8,465 cusecs on this day in 2014 and 2015, respectively.