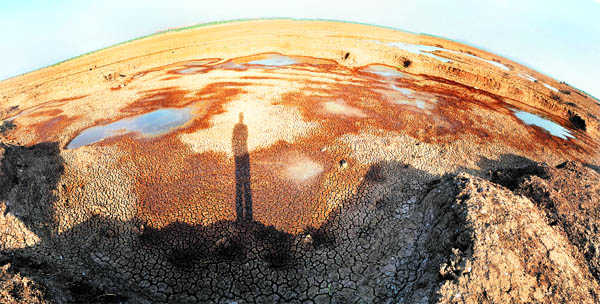 The Tribune Team
Rahiman pani rakhiye, bin pani sab soon…
SUMMERS are very cruel; it is as if we see ourselves under a magnifying glass; singed we blame it on the sun, the thirst, and most viciously, our governments. Tempers run high, thirst intensifies, and tauntingly, what we get is a trickle in the tap, that too, if it must. There are others far worse off in remote villages of Maharashtra, Rajasthan, Haryana, Andhra Pradesh, Telangana, Western UP, Bundelkhand and Orissa who have to walk miles for a pitcher of water for Rs 60, because their ponds, wells and rivulets have dried up, there have been no rains, and in some cases, their governments are locked in a dispute over sharing river water. There's an unending emptiness…sab soon…
Just what did we do to ourselves, how have we come to such a pass and why does this heat seem so hauntingly telling us: we lack the courage and righteousness in measuring up to the worth of water? Again,…sab soon…
Scrape the crust of a dry pond, anywhere, you'd sure get one answer: we have wantonly played with simple laws of nature and humiliated the sacred essence of our rivers: flow and follow.
There are more facts, born more out of necessities than as an expression of collective moral responsibility: right to water has been recognised as a right to life under Article 21 of the Constitution (what have we done to achieve that?) According to Bureau of Indian Standards (BIS), a minimum of 70 to 100 litres per head per day may be considered adequate for domestic needs of urban communities. Have governments devised ways to supply even this much of water? What have we, as citizens, done to preserve and conserve water, particularly in the wake of rapid, reckless urbanization?
Result
1Policemen stand guard to prevent riots when railway wagons unload water into tankers in parched areas of Latur (Maharashtra). These wagons arrive from Miraj (about 375km) in modified rakes.
2Crocodiles came out on the highway near Barabanki, 40km off Lucknow because ponds where the amphibian grew have gone dry.
3Caste and communal differences have surfaced in several areas surrounding Jammu as people struggle to get drinking water.
4Villagers in the ever-thirsty Mewat area of Haryana don't even ask their guest for water and send their children to school on alternate days because they have to fetch water from a tanker that "appears once in a while miles away."
5A study by Central Water Commission (CWC), a wing of the Ministry of Water Resources, says the water storage availability in the 91 major reservoirs across the country for the week ending April 28 is 32.3925 BCM (billion cubic meters) which is 21% of their total storage capacity.
6The water table in 11 districts of riparian Punjab has declined between 5.5 metres (Amritsar) and 18.41 metres (Fatehgarh Sahib) during 1996-2014, courtesy unbridled exploitation of groundwater and water-guzzling crops.
The Tribune reporters fan out in some of the thirstiest areas of the country and find a precarious situation: at some places, there are mass migrations as water has vanished, farmers are selling their cattle to slaughterhouses for cheap for buying water, people dying of diseases and there is a feeling of isolation, internal conflict aggravated by primeval struggle to survive.
Summer of discontent
Gurgaon: The Millennium City is the finest example of human greed and hubris. Home to over 500 Fortune companies and over 1,000 tony condominiums, its recent dwellers are out on the streets shouting hoarse against irregular water supply. The Yamuna reaches the city via Sonepat through two canals, the Gurgaon Water Supply (GWS) canal and the NCR canal. The older GWS canal provides most of the city's water. Once in Gurgaon, the water is made fit for use at two treatment plants near Sultanpur National Park. Ironically both plants are operating at less than their optimum capacity.
The authorities fear the city will go dry by May-end. The water table is abysmal around 400 ft and the Yamuna supply is being curtailed by almost 60%. "Builders never evaluated the water needs before building these huge residential complexes," says Deputy Commissioner TL Satya Prakash.
Mirages of Mewat
As shadows lengthen in the dead of endless stretches, veiled women emerge with pitchers on their head, lending themselves to mirages. There are 400 villages where tankers parked on village outskirts sell water for Rs 50-60 a pitcher, most hand pumps don't work as salinity makes water undrinkable. Richness, thus, is measured against affordability of water. "A rich man of our village has an underground tank at his home. He calls a tanker every week and once his tank is full, we get a chance to buy the remaining water. Last week the price of a pitcher was Rs 40 but as temperatures soar, we are buying it for Rs 60 a pitcher," says Mehtaab Khan of Nangal Shahpur in the Nagina block
Amidst hardships if something has come out, it is the lies. Sources said the irrigation department submitted a report to the Deputy Commissioner claiming that 145 ponds of over 103 villages were up to the brim. When the DC counter-checked, it emerged that half of these ponds were empty.
Governments have for decades promised renovation of Kotla lake. The Khattar government after spending Rs 17 crore on the first phase, says about 23,000 acre of land would get irrigation facilities. But the Mewat Vikas Manch says it would not solve the drinking water crisis.
Business of water
Hisar: The sandy terrain along the Rajasthan border is the most critical zone in Hisar. Several villages located along the border in Nalwa and Adampur blocks depend on the government water supply as water table is very low. And whenever, there is a shortage of canal water which feeds the water works in these villages, people in these villages rush to buy water from tankers coming from Rajasthan. "The enterprising youths bring water from tubewells from Rajasthan and sell in Budak and some other villages," says Dayanand Punia, a resident of the village. The district administration installed an RO system but that's hardly enough for about 50 houses.
Rationing soon
Rohtak: "Households in our village get water once in three to four days and that, too, for just a few minutes. The authorities have a stock reply: no water is available as baulis and ponds have dried up," says sarpanch of Basantpur village Parveen. SK Bhatia, Superintending Engineer (Public Health-Engineering), attributes the shortage to the dried-up Yamuna. "The canal supply fed by the river was available for 8 days after a 24-day gap, which is now widened to 32 days. Soon, we have to ration water," says Bhatia.
No hope for Jammu
Samba: In the blazing sun, women of Mandi Kheri village fill plastic jars and buckets from an old tube-well. Drought and a falling water table have left the distribution network defunct. And ditto for Jammu, Samba, Kathua and border districts of Rajouri and Poonch.
The Kandi belt of J&K is a veritable dry land as traditional water sources have disappeared. "We go out thrice daily to fetch water from the only functional well in the village. The administration has not provided any tanker," says Mandi Kheri's Renu Devi.
Even in winter capital, Jammu, inhabited by 15-lakh people, authorities are facing an uphill task. The Tawi flowing through it exhibits a trail of its exploitation. "For 4,000 gallons of water, the private water tanker operators would charge between Rs 600 to Rs 1,000 within the city," says Rashpaul Singh, a resident of Channi Himmat.
The crisis is likely to deepen as the ambitious Chenab diversion project to lift 450 million litre per day (MLD) water was abandoned in 2014 after the Asian Development Bank (ADB) rejected the plan on environment concerns.
Inputs by Sumedha Sharma, Deepender Deswal, Sunit Dhawan and Sumit Hakhoo. Anchoring: Prashant Saxena
Top News
The case was filed against Gandhi for his alleged 'how come ...
Can't keep defaming people, democracy and the country and ex...
The court of Chief Judicial Magistrate HH Varma sentences Ga...
A court in Gujarat's Surat holds Gandhi guilty of defamation...
BJP leader Ravi Shankar Prasad hits out at Congress presiden...