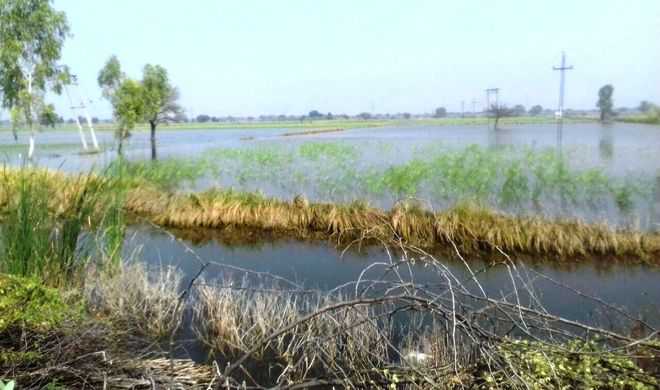 Sat Singh
Tribune News Service
Bhiwani, October 7
Farmers of Jaishree village have been facing the problem of waterlogging for over three months. They are not able to sow wheat and mustard crop owing to the condition.
"The rain that occurred three months ago damaged my paddy. My field is waterlogged even as the rabi season has started," said Rajkumar, a farmer.
Besides Jaishree, waterlogging has become a serious issue in Kamod, Mishri, Khatiwas, Jinger, Loharwada, Samaspur, Charkhi, Bhervi, Imlota, Swaroopgarh, Satood, Nimli, Paitawas, Bhaini Phogat and Giri Chappar villages also.
Sudarshan Kumar from Kumod village said there were 20-25 villages in Charkhi Dadri district where several thousand acres were facing the same problem.
"We are in serious crises. The paddy crop of many farmers suffered huge losses and if the next seasonal crop is not sown, they will not be able to make ends meet," he said.
Om Prakash, another farmer, said though the administration had employed machines to drain out water, 35 per cent of the village fields were still inundated.
Master Sher Singh, state president of the Akhil Bharatiya Kisan Sabha, said they had met top administration officials for getting the survey of the affected fields and start the process of compensation. Former Dadri MLA Satpal Sangwan accused the government of not doing enough to solve the problem.
Top News
2 others eject safely I Debris strewn across miles I Sukhoi,...
Visit comes ahead of NSA chief's US tour
Union Ministers call it part of efforts to de-colonise, indi...