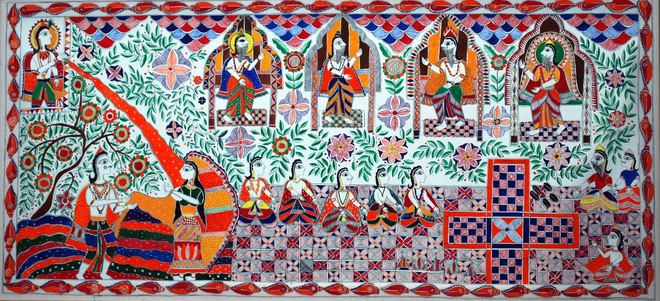 Vibha Sharma
India is lauded as the land of cultural and traditional diversity and one area which adds significantly to this medley is the Indian art and craft. Almost every single state can claim to have a unique art form and a traditional way to practice the same. Besides the folk or regional art, various art forms have been practiced by many tribes and rural population — which form the category of tribal art. The folk and tribal arts, though done with limited mediums and with traditional tools, present the liveliness of colours and the close-to-life scenes, illustrating our rich heritage.
Traditionally done on walls of kutcha (mud) houses, changing times have influenced the reach of these traditional and regional art styles significantly. Some of these art forms have become household names now. One can easily spot the dancing stick figures of Warli, Madhubani-style fine lines, murals of mythological scenes, vegetable-dyed Kalamkari, nature inspired Gond art — on almost any and every surface these days.
Hand-painted or weaved peacocks, fish and parrots, a marriage procession, women drawing water from village well, scenes from Krishna's life and similar such patterns are commonly found in dress materials. From kurtas (for men and women), shirts, dupattas, sarees, bags, clutches, phone covers, table mats, bedspreads to coffee mugs — folk art on wearable and daily use items is in vogue these days.
Tribal goes global
The trademark of Warli paintings has been geometric shapes such as triangles, circles, dots and crooked lines to depict human figures, animals, houses, crops and much more. The subjects range from festivals, harvest, marriages to other familiar celebrations. Today, Warli paintings are done on paper, cloth, canvas and also on walls as murals. Jiya Soma Mashe, a respected artist of this art form, actually made it possible to take it from the limited borders of rural settings to the broad lights of cities and different countries. He says, "Warli art speaks of our way of life, our culture; it reveals the heart of the tribals."
Gond is another Indian tribal art named after the largest tribe of central India by the same name. Predominantly inspired by nature and social customs, Gond art is the depiction of the same through a repetitive patterns of dots and dashes. Traditionally used for adorning walls, ceilings and floors of the houses, Gond art can be seen being draped by various fashionistas these days.
Kalamkari, as the name suggests, is done with a kalam (pen), and vegetable dyes are used to colour the designs applied on the cloth. The art form, which flourished near Hyderabad, usually highlights scenes and events from the lives of mythological deities along with other motifs. Intricate patterns, earthy fragrance of vegetable dyes and vibrant colours make the kalamkari creations stand apart. A hand-painted Kalamkari dupatta or a saree is considered a prized possession these days and beautiful work is actually worth the price that one needs to pay for owning one such piece of art.
Madhubani (Mithila) painting is yet another folk painting of northern India. Nature and mythology are used in this style to depict different events like birth, marriage and cycle of life. Acclaimed symbols of fertility and prosperity like fish, parrot, elephant, turtle, sun, moon, trees etc. are usually seen in these paintings. Intricate fine lines (kachni work), prominently highlighted eyes are trademark of Madhubani creations. One can see more and more of the typical designs of Madhubani being replicated on dress materials and sarees.
Sunanda Sahay grew up in Darbhanga, the heart of the Madhubani region. Her artistic interests led her to seek out practitioners of the art from local villages and learn directly from them. Settled in US, she now popularises the art via exhibitions, workshops and lectures in the New England area, and her style has stayed true to the traditional themes of mythology and social customs.
Suhasini, an ardent art lover, says, "I see these art forms of fabric as something special that we can give back to the tribes who created them. It's celebration of our ethnicity and we have every reason to be proud and adorn ourselves with wearable art." She loves to paint in Warli and Madhubani forms to create beautiful kurtas, wall hangings and bookmarks.
Extending boundaries
With world becoming a big global village, and with travelling and settling in away from birth place, becoming a regular feature, the next generation of the acclaimed artists and some patrons have picked up the cause of taking the art to different places. The authenticity and ethnicity of the Indian folk and tribal art is well respected all over the world. Fab fairs and exhibitions, which have become a routine feature in big cities, have worked wonders in promoting regional art forms and bringing them in the limelight that they so rightly deserved.
Weaves, Delhi Haat, Fab India are some of the authentic platforms which are giving artisans a way to bring their handicrafts directly to the users bypassing all hurdles in the form of middle parties. Online stores like Craftsvilla and Desihands are some websites which are turning out to be a boon for the artists who can put their stuff online and are free from all the hassles of connecting with buyers directly. The buyers are a happy lot, too, as they get to buy original art work directly from the artists through these websites, sitting anywhere in the world. Moreover, online shopping portals like Flipkart and the Indian chapter of Amazon have great options for the handcrafters to put their creations online.
Social networking
One cannot doubt the power of social media in the technology-driven present times. The news and trends spread like wild fire in the blink of an eye. If one is on any of the social networking sites, it is hard to miss what #100sareepact has already achieved in a small period of time. Other than the personal stories behind the sarees, more people are getting to know about the unique fabrics and art works of different regions. From materials ranging from chanderi, Sambalpuri, Kota, crepes, georgettes to kasavu and the art work spanning Warli, Madhubani, kasuti, tepchi, Kalamkari, baluchari, kantha, tie-and-dye and block printing, one gets to enjoy the elegance and beauty of what different regions have to offer.
With accessibility, affordability, choice and knowledge — not acting as stumbling blocks, regular fabrics and designs are a passé, what one looks for is uniqueness and earthiness in designs in the form of art work done on the dresses and accessories.
Media marketing
Various art forms have greatly benefited after being used on wearable stuff, says Sunanda Sahay. These have a wider market now and people can share and showcase the art more easily. Compared to wall paintings and decorative objects, wearable art is more democratic and affords a way for common people to express their individual styles and artistic tastes. It also underscores a resurging pride in ethnic traditions. Our traditional arts provide a genuine path for people to assert our own social roots and cultural heritage, and distance ourselves from a West-dominated mass media.
Top News
Separatist still at large | 6 FIRs, 114 arrests so far | ISI...
1 held for pulling down Tricolour in London
Unveils $75 bn plan to counter China