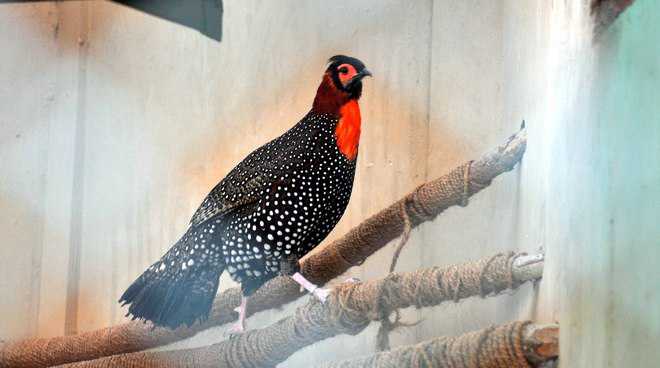 Shriniwas Joshi
The third State Wildlife Board meeting in 2007 decided to crown western tragopan (tragopan melanocephalus), locally known as jujurana, as the state bird of Himachal Pradesh dethroning monal from its exalted position. But monal (lophophorus impygenus), another beautiful bird, remains the State Bird of Uttarakhand and the national bird of Nepal.
It is called danphe in Nepal. The beauty and charm of jujurana is reflected in a painting of the bird done by DG Elliot in 1872 (See photo). Daniel Giraud Elliot (1835-1915) was curator of zoology in The Field Museum at Chicago and was one of the founders of the American Ornithologists' Union. He had immense wealth and this enabled him to produce a series of bird books illustrated by magnificent colour plates, including his own excellent works. Jujurana meaning 'King of Birds' is called pyara in Kinnaur, jyazi in Bushahr and fulgar in Chamba and Kangra districts.
About 40 years back, for the first time, I had seen a jujurana in a friend's house at Jogindernagar. Somebody had caught it in the Chohar valley and stuffed it to be decorated in the shelf. Despite the poor work of taxidermy, the bird looked awesome.
Today, western tragopan is a schedule-1 bird according to the Wildlife Protection Act and classified as vulnerable (VU) by the International Union for Conservation of Nature. Adult male jujurana is slightly bigger than its female counterpart and is weightier. It is a colourful bird. Male western tragopan is bright dark, grey and black in colour with numerous white spots, each spot bordered with black deep crimson patches on the sides and back of the neck. Head is black with red cheek patches.
Sides of the head and throat are naked or only thinly feathered and brightly coloured. The entire neck is red in colour. Females have pale brownish grey upper parts finely vermiculated and spotted with black and most of the feathers have black patches and central white streaks.
Two steps relating to western tragopan taken in Himachal Pradesh are encouraging. Because of the improved conservation methods adopted, the density of this highly endangered, elusive pheasant in the Great Himalayan National Park at Kullu has increased to 6.5 birds per square kilometre whereas it was just 5 in 2010.
The Great Himalayan National Park spreads over 754 square kilometre and is one of the richest biodiversity sites in the Western Himalayas. This park is home to 203 bird species and 31 mammal species, three reptiles, nine amphibians and 127 insect species, besides 425 species of plants.
It is really a great place for school students to go and gather knowledge about the biodiversity. Secondly, a Sarahan Pheasantry had been started in 1992 which is the only place in the world to hold western tragopan in captivity.
The pheasantry is at Sarahan amid thick pine and deodar forests in the Rampur-Sarahan area of upper Shimla district. The number of captive birds in it varies from 10 to 24 but according to a Forest Department report, "During 2012, a total of seven females incubated the eggs naturally, which represents nearly 75 per cent of the individuals of the captive population and is the highest number of females incubating the eggs naturally till now." Seven chicks have been mother-reared. It is no less achievement.
The western tragopan lives in small family parties and is believed to be primarily monogamous. When the female is about to procreate, a rudimentary nest is prepared either on the branch of a tree or on the ground. Tragopan couple does not mind using the abandoned nest of another species. The incubation job is of the female only which incubates clutches of two to six eggs. The male, however, is not shy of the father's duty and tends the chicks once these are hatched. Remember, they are shy and wary birds and hide quickly among their habitats in the dense vegetation, if disturbed.
Top News
PM Modi, Union Home Minister Amit Shah among early voters
As the voting progresses, both SP and BJP hurl allegations a...
The Delhi govt opposes the Centre's plea saying it will only...
This comes as a major embarrassment to CM Bhagwant Mann who ...
Pawanpreet Kaur was gunned down with 'multiple shots' and di...