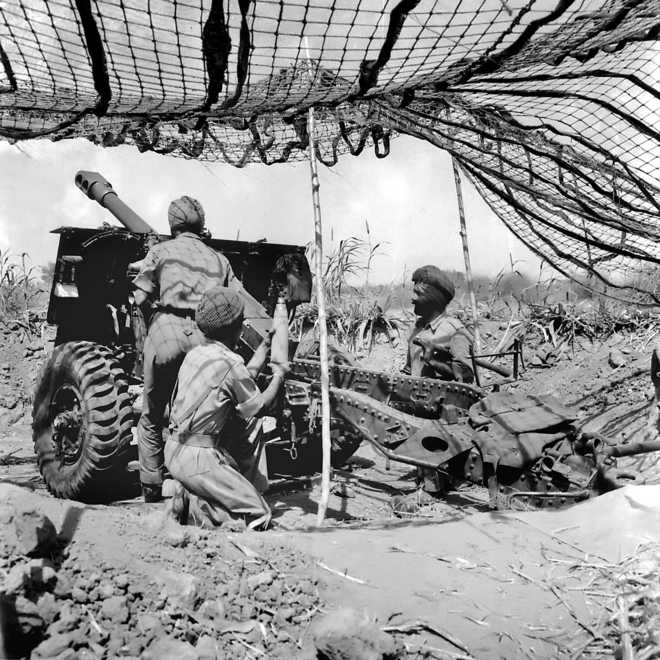 Azhar Qadri
In the summer of 1965 that ended with a war between India and Pakistan, multiple factors had conjoined to create an air of discontent in Kashmir. The disenchantment within Kashmir became the base for Pakistan's decision to launch a clandestine military mission whose success relied on a single hope that the Muslim population in Kashmir will ultimately revolt.
Kashmir in 1965 was a political hotspot and the memory of an unprecedented agitation over the disappearance of a revered relic was still fresh. The series of incidents in Kashmir in 1965 had convinced the strategists in Pakistan that a covert entry of the Pakistan Army officers and soldiers, aided by volunteers, would trigger a rebellion in Kashmir and the "unfinished agenda" of Partition, the term used by Pakistani political and military leaders to describe Kashmir, would be completed.
The processes leading to gradual deletion of clauses of internal autonomy had picked up pace in the preceding decade, which had caused resentment in the political leadership and population in the area. The authority of Supreme Court, Auditor General, the Planning Commission and the Election Commission had been extended to Jammu and Kashmir. The customs barrier between India and the state of Jammu and Kashmir had also been removed.
On March 3, 1965, five months before Pakistan launched its covert operation codenamed Gibraltar, there was a serious encroachment on internal autonomy when the then Prime Minister of Jammu and Kashmir, Ghulam Mohammad Sadiq, a Congress loyalist, changed the nomenclature of state's Wazeer-e-Azam, or Prime Minister, to Chief Minister and the state's Sadr-e-Riyasat, or President, to Governor.
It was a sign of strengthening of influence of the Union of India against possible secessionist tendencies of Sheikh Mohammad Abdullah, Kashmir's most influential leader, and his National Conference, which was on the forefront of a political fight for plebiscite after an end to romance between its leader and Prime Minister Jawaharlal Nehru.
"A sizeable section of Kashmiris resented the erosion of the provisions relating to state's autonomy," authors Bipan Chandra, Aditya Mukherjee and Mridula Mukherjee write in the book India Since Independence.
Article 370 also gave birth to a powerful movement in state's Jammu region, which demanded full accession to India, a greater share for Jammu region in government services and even separation of Jammu from Kashmir. "The movement (in Jammu) soon acquired communal colours… it tarnished India's secular image and weakened India's case on Kashmir. It also unsettled Sheikh Abdullah, and made him doubt the strength of Indian secularism," the authors note.
Abdullah's relationship with Nehru had soured in 1953 when he was arrested by the state police while still holding the office of Prime Minister of Jammu and Kashmir. In April 1964 charges against Abdullah were dropped and he was released. Within days, Abdullah was on way to Pakistan where he met the dictator-president Ayub Khan and talked about solution of the K-issue involving the leaderships of Kashmir, India and Pakistan. Abdullah's Pakistan visit was cut short by Nehru's death in May 1964.
"He had died due to a dissecting aortic aneurysm. We received the news with stunned silence. Everyone knew that with his death, the hope of a solution for Kashmir and a thaw in relations between the two adversaries, India and Pakistan, had also been buried," Gulzar Mufti, a Kashmiri doctor and author, writes in his book, Kashmir in Sickness and in Health. Mufti notes that after Nehru's death, India's appetite for rapprochement with Pakistani leadership was dead. "Kashmir's destiny was again at crossroads; fate had changed it again."
A year after Nehru's death, in May 1965, Abdullah again went on another foreign tour, first on a pilgrimage to Hajj, then to Eygpt, England and finally to Algeria where he met Chinese premier Chou En Lai. On his return to New Delhi, Abdullah — the then most popular leader of Jammu and Kashmir — was detained and interned from the state. Abdullah's arrest and internment, which continued for several years, had created a new wave of discontent in Kashmir, where he was eulogised as the great leader.
The political upheaval of 1965 which engulfed Kashmir had another important chapter in the unprecedented agitation of the winter of 1963-64 against the disappearance of a revered relic from the mosque in the city. As crowds poured into Srinagar, Mufti writes, the agitation quickly transformed into "Mass anti-India political rallies" demanding plebiscite and implementation of the UN resolution.
Pakistani strategists had missed an opportunity during the 1962 Indo-China war to make their move. In the aftermath of the 1962 war, Pakistan quickly seized the moment to begin developing friendship with China. Pakistan voted in China's favour in the United Nations and following a round of negotiations reached an agreement ceding the claim over the Shaksgam Valley to China, ensuring it had a friend in times of war that was soon to come.
---
Read more in '50 Years of 1965 War' special:
Top Stories