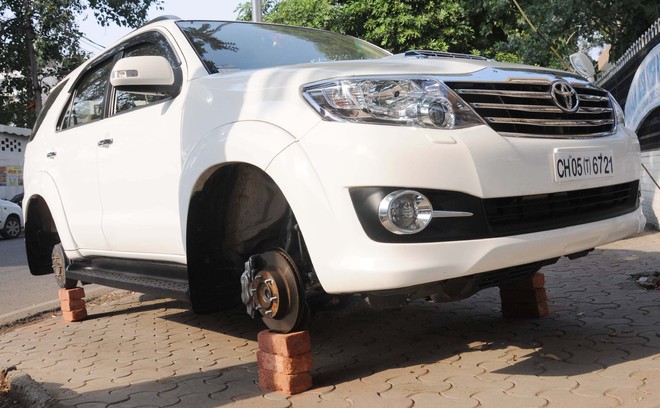 Chandigarh, June 18
Thieves decamped with four wheels of a newly purchased Toyota Fortuner from Sector 27, here, on Wednesday night.
SUV owner Ashwani Gupta said he had parked the vehicle outside the house. Today morning, he noticed that all four wheels of the vehicle were stolen. "The wheels and tyres cost around Rs 2 lakh. I had purchased the vehicle around a month ago," he said.
Gupta said it was surprising that despite the UT police claiming to have stepped up night patrolling thieves managed to steal the tyres.
"It seems the handiwork of more than one person. The accused must have come in some SUV or an auto to ferry the wheels of the SUV as they were huge," he said. The matter was reported to the police and an investigation has been initiated. — TNS
Top News
India offers to build transport networks in Central Asia; ta...
Ashish Mishra, son of Union Minister of State for Home Ajay ...
The move comes ahead of Prime Minister Narendra Modi's visit...
Police say that based on a complaint, an FIR has been lodged...
At 8.56pm on Monday, the troops hear the sound of a drone fr...