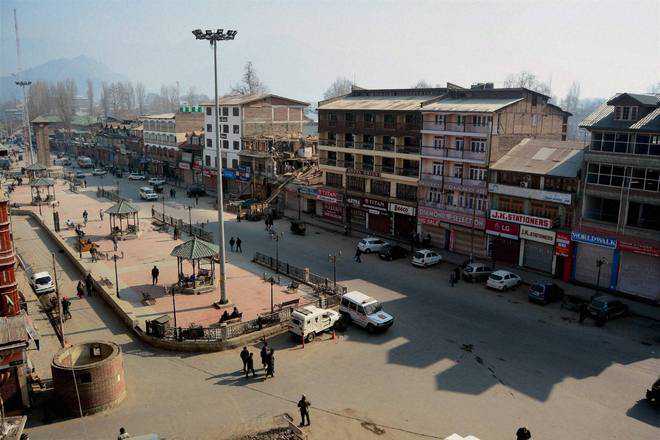 Ehsan Fazili
Tribune News Service
Srinagar, January 25
It has been 24 years since all eyes were set on Clock Tower at the historic city centre of Lal Chowk here on the occasion of Republic Day in 1992 when the Tricolour was unfurled early in the morning amid tight security by then BJP president Murli Manohar Joshi, who was accompanied by some party colleagues, including Narendra Modi.
There was an explosion or two in the vicinity, triggered by suspected militants. It was a psychological war against militants to take control of the historic Lal Chowk.
The hoisting of the Tricolour at Lal Chowk was the culmination of the BJP's "Ekta Yatra", which had begun from Kanyakumari.
The event was over in 15 minutes, after which the BJP president interacted with mediapersons under heavy security cover inside the packed visitors' room at the helipad of Badami Bagh Cantonment.
Seated on a sofa with his colleagues in front of a few rolling cameras, photographers and reporters, the BJP president introduced an "energetic and promising" party leader, Narendra Modi.
The city centre has continued to be in the news for over a quarter of a century, on the occasion of both Republic Day and Independence Day.
It has hogged the headlines on various occasions like "Lal Chowk chalo march" called by separatists, particularly during the summer unrest in 2008 and 2010.
It became the centre of focus in 2011 when the Bharatiya Janata Yuva Morcha planned "Rashtriya Ekta Yatra" to unfurl the national flag at Clock Tower on Republic Day.
The event did not take place although some activists managed to hoist the national flag near Clock Tower.
The practice of hoisting the national flag at Clock Tower, which was continued since 1990 by BSF or CRPF personnel camping at the site, was discontinued in 2009 for having no "political significance".