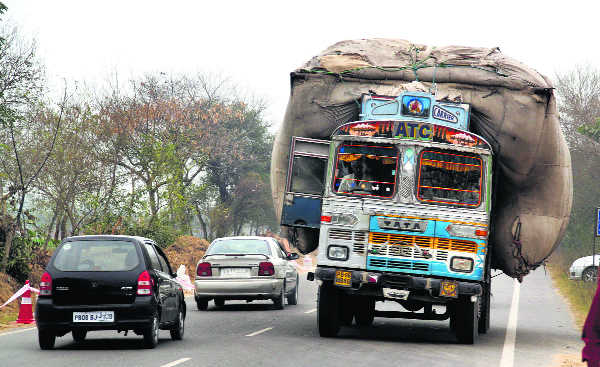 KK Kapila
India accounts for 11 per cent of the total 1.3 million road accident fatalities worldwide despite having only 1 per cent of the world's vehicle population. As many as 1.46 lakh people were killed in an estimated 4.9 lakh road accidents in 2015 alone.
The annual social cost of accidents is between 2 and 3 per cent of the gross domestic product (GDP). The government is losing Rs 1 lakh crore a year because of road accidents, besides the loss of precious human life and trauma.
India, which is a signatory to the United Nation's action plan for road safety, aims to reduce road fatalities by 50 per cent by 2020. It has taken some initiatives to make roads safer under the pillars of the four Es - engineering, education, enforcement and emergency care - to bring down the fatalities by 50%. Accordingly, under the nodal ministry of road transport and highways, various measures are being undertaken by the key stakeholders on a sustained basis across India.
Political consensus
The existing Motor Vehicles Act is outdated. It needs to be modified for proper enforcement of traffic rules and retrofitting of vehicles plying on roads. The amended legislation, which is before parliament for approval, will go a long way in supporting the multi-pronged efforts being undertaken to control the menace of accidents in the country. The early enactment of this Bill is required to save lives lost and the consequential economic loss to the nation.
There is a political consensus on this matter. Road safety has featured high on the agenda of major political parties such as the Bharatiya Janata Party and the Indian National Congress. In his 'Mann ki Baat' on July 26, 2015, PM Modi had committed to the speedy introduction of the Road Safety Bill. The Congress had also committed to the nation through its election manifesto to work for improving road safety in the country. Many regional and smaller political parties have also recognised the importance of having a comprehensive road safety legislation to tackle the menace.
The country needs commitment to reduce fatal accidents. The International Road Federation (IRF), dedicated to making roads safer, refuses to accept the loss of life and limbs as the cost of mobility. It is working towards reducing accident fatalities through engaging larger communities and stakeholders in various awareness activities on road safety.
Legislative support
Several measures towards improving road safety including the much-awaited amendment to the Motor Vehicle Act, improvements in roads from engineering perspective, road safety audits at all stages of road construction right from the planning stage, besides the identification and remedy of black spots, which account for almost 90 per cent of fatalities in India, are currently underway.
The Motor Vehicles Act Amendment Bill, which needs to be cleared by parliament immediately, has provisions appropriate penalties, including public awareness of the laws, a critical factor in reducing traffic injuries and deaths. After the legislation will be enacted, it will result in hefty penalties for traffic rule violators. They will have to cough up almost 10 times more than what they pay now for offences like over speeding and drunk driving. The Bill seeks to raise compensation for death resulting from a hit-and-run accident to Rs 1 lakh and Rs 50,000 for the injured in such incidents. It will also help in strengthening road safety laws and play a very important role in making the country's roads safer.
Incentives to act
Recently, the government has allowed Members of Parliament to use their local area development funds for works such as constructing road under-passes at level crossings, foot over-bridges for crossing tracks, road diversions, footpath, pedestrian ways and cycle tracks. All these activities are aimed at reducing accidents and fatalities.
In 2012-13, the government allowed income tax exemption on 50 per cent contributions made for road safety activities. The government can motivate people to donate generously for activities related to road safety by making it 100 per cent tax exempt. The Ministry of Road Transport had also allowed states to use 10 per cent road construction funds on engineering measures for safety. The ministry, along with the IRF, had also started an initiative of putting free retro-reflective tapes on bicycles in Delhi and other major cities across the nation.
Ambitious target
The Union Urban Development Ministry has set a five-year target for reversing the accident growth rate to negative. The measures to check fatal accidents include improving road engineering, having separate cycle lanes, construction of lay-bys on highways after every 50 km, proper signage and improving the public transport system. The Central Board of Secondary Education (CBSE) has agreed to introduce road safety in a subtle way through various subjects in the existing curriculum thus not further burdening students. Rajasthan has already incorporated road safety in its school curricula.
It is suggested that state governments must undertake safety audits of their road networks. Worldwide road safety audits are done to reduce accidents. The audit includes improving the fault of road design, which is a major cause of accidents. Institutions such as the IRF can help in training safety auditors. The international federation has already trained about 500 auditors in the country.
Focus on quality
Meanwhile, the government should construct less, but safe roads. These new roads should have features like underpasses, flyovers and without black spots. Removing black spots and taking other safety measures on existing roads is more costly, but necessary.
The other suggestions for making roads safer include reducing travelling speeds in areas where pedestrians are interacting with vehicles and those speeds must be properly enforced. It is also necessary to stop dangerous activities such as uncontrolled stops by buses. Illegally parked vehicles force pedestrians to walk on the road, which is often dangerous. Construction of median fences, footbridges, mid-block signals, speed bumps and speed-zone control markings must be installed across the highways.
Other important suggestions include setting up fully equipped trauma-care centres for accident victims along major highways. Proper and timely medical care to accident victims can save several lives. Appropriate road signage providing information about these trauma-care centres with phone numbers should be put on the highways and major roads. It is also necessary that any person helping accident victims should not be harassed by the police.
Strict enforcement of existing laws and traffic rules is also a must to save lives on the road. These rules include wearing of helmet, use of reflective tapes by trucks and buses, mandatory fitment of side and rear under-run protection in trucks and buses, ABS brakes for two-wheelers above 125 cc, rear-view sensors for motor vehicles and strict action against the overloading of vehicles.
The writer is the chairman of International Road Federation, a Geneva-based global road safety body.
Top Stories