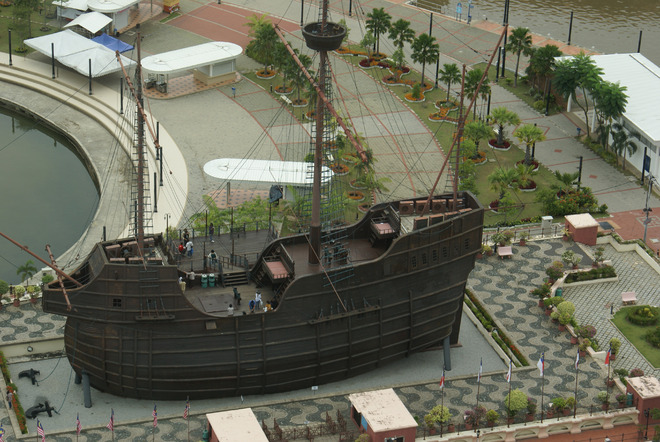 Hugh & Colleen Gantzer
It all happened when a Prince of Indian origin, fleeing a coup, rested under a tree. There he saw a tiny mouse deer challenging a pack of fierce hunting dogs released by his warriors. 'Ah!' thought the beleaguered Prince Parameswara, "this has to be a very auspicious place'. He was right, because under that melaka tree, he established Melaka as the capital of his new kingdom. That royal state evolved, changed its name often, and grew into 'Malaysia' which is what we shall call it.
Melaka, also re-named from 'Malacca', is a beautiful heritage town, its central square alive with facets of its chequered history. Terracotta-red buildings still stand as stolid and business-like as the Dutch burghers who built these. In the centuries-old Christ Church, the pastor was once hoisted up in his chair to spout reformist fire and brimstone from high above his trembling parishioners. Today, trishaws festive with paper flowers perambulate tourists in front of the church, around the square, past a windmill to evoke a Dutch ambience, and the Stadthuys, once the administrative centre of the Dutch rule since 1645, now the Historical and Ethnography Muzium. A plaque on the wall recalls that, after the East India Company ousted the Dutch, today's Malaysia became part of Queen Victoria's Indian Empire.
Distant India again influenced the fate of Malaysia. Shaken by the Independence of India in 1947, the British agreed to give freedom to Malaya nine years later. Tunku Abdul Rahman brought back Britain's promise of independence to Malaya, announcing it at the end of a triumphal procession in Melaka in 1956. There's a picture of that cavalcade in the Proclamation of Independence Memorial, formerly a starchy Colonial Club, not far from the Dutch buildings. From there, we strolled further into the past. At the end of a road is the re-created Sultan's Palace. A diorama of the Sultan's court could have replicated the court of the Zamorin of Calicut, when Vasco da Gama presented his credentials to the powerful ruler of Kerala's Malabar.
Enriched by their India experience, the Iberians came to Melaka where they erected their town-dominating fort, A Famosa. The British demolished much of it when they occupied the town but the stone entrance, Porta de Santiago, was saved. Also standing, accessed by a flight of railed steps are the ruins of the Fort's Church, where St Francis Xavier's body was interred before it was taken to Portuguese Goa. In St Peter's Church, not far from the Christ Church, there is a stained glass window of the saint after whom all St Xavier's Colleges have been named.
Then it began to drizzle and we ducked into the Museum of Enduring Beauty. This was an eye-opener. Nowadays when even the most seemingly macho of men want to look fair and lovely, it should have come as no surprise to us that beauty had taken the most bizarre forms all down the ages. Long before the bleaching fad hit us, men had inserted plates into their lips and earlobes, children's feet had been viciously bound, necks elongated with columns of hoops. Women have always been the greatest victims of the whims of fashion and paternalistic prejudices. One theory accounting for the grotesque stretched neck style was that it made women unattractive to slave traders. Few people, today, realise how many European nations owe their present prosperity to slave labour. The feeling that people with dark skins were inferior to those with pallid ones is as old as colonialism, and the Portuguese fidalgos bought their prejudices with them when they sailed into Melaka. It's a reflection of the self-confidence of Malaysians that they have made a full-scale replica of the Portuguese ship Flor de la Mar and installed it in their Muzium Samudera. Clearly, they do not suffer from a denial of their history.
We got another insight into Malaysian history from an unusual perspective: the Malaka River. We chugged past high-rise apartments, a few old riverside cottages hung with traditional Chinese lanterns, and the floating homes of the boat-people. Scaled iguanas, water lizards, gazed at us from the glistening banks and the quick-witted guide gave a lively commentary that often identified these basking reptiles with international VIPs of the shadier kind. Sadly, inevitably, this politically incorrect commentator has been changed!
We disembarked and drove into the very popular, crowded, Jonker's Walk.Here, glazed ducks dangled in a Chinese restaurant, a Chinese temple shimmered in gold and scarlet and a curious three-headed, multi-armed, idol resembling Lord Brahma built a bridge between faiths. In the eclectic Baba-Nyonya Museum,the mores of Chinese traders married to Malay women merged to create a distinctive community with its own identity. In Peace Street, aChinese temple rose near an old mosque and a Ganesh temple built by immigrants from Tamil Nadu in the 18th century.
Our minds buzzed with impressions and we needed to set them in perspective. We took a ride to the top a 130-foot-high tower with a donut-shaped, glass-sided, observation pavilion on it. It was exhilarating. There, beneath us was the Portuguese ship and their fortified hill. Beyond were the Straits of Melaka and a tourist-filled amphibious vehicle, on a Quacker Duck Tour, offering an exciting drive-cruise from Melaka into the waters of the Straits and back.
It will have replicated the end of Parameshwar's voyage before he met that courageous mouse-deer under a melaka tree.