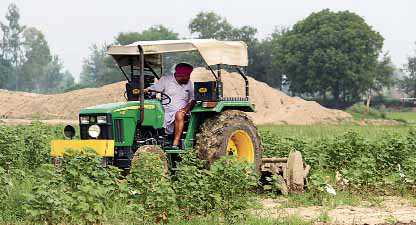 Sarbjit Dhaliwal
Tribune News Service
Chandigarh, July 31
With the whitefly attack becoming severe in the Malwa region, a number of farmers have started uprooting their cotton crop.
The failure of the second successive crop is virtually staring the farmers in the face, many of whom are not in a position to take the blow. Whitefly had ravaged the cotton crop over a vast area last year, following which the government distributed Rs644 crore as compensation to the affected farmers.
As a result, the area under cotton fell to its lowest this year in six decades. The crop was sown on 2.56 lakh hectares against 4 lakh hectares last year. In late 1990s, it was the highest around 7.4 lakh hectares.
"The attack of whitefly, a minute insect that feeds on plant juice that sucks its leaves dry, is fierce in certain pockets as it was last year," said Jagdev Singh Sidhu, a farmer from Mansa district.
"Since there was no improvement, I uprooted the crop over 8 acres and decided to transplant some late variety of paddy," he said. Officials of the Agricultural Department visited his fields today.
"I have already suffered a loss of Rs40,000 which I had spent on cotton seed, sprays, labour etc," said the farmer, adding that this time, black fly was also seen on cotton plants. "I will have to spend an equal amount on the transplantation of paddy even as I am not certain about its prospects," he added.
Sidhu is not alone who has uprooted his cotton crop, which was about to enter the flowering stage. Many others have also followed suit.
"We have got reports that some farmers in Dyalpura, Dodhra, Bhaini Bagha and other villages have uprooted the cotton crop," said Ram Singh, a BKU leader.
Jasbir Singh Bains, Director, Agriculture, said an interstate monitoring team headed by PAU Vice-Chancellor BS Dhillon was keeping a close watch on the situation.
"The recommendations made by PAU and the Directorate of Agriculture to check the whitefly attack have been approved by a committee of experts sent by the Union Agriculture Ministry. The committee had recently visited various parts of the cotton belt," he said.