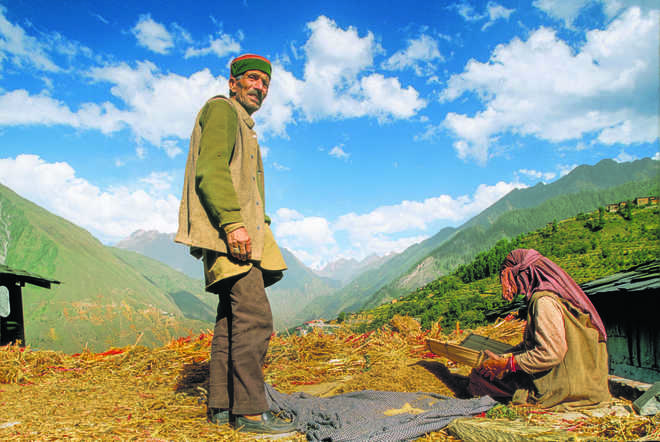 Subhash Rajta in Chandigarh
The scrapping of Article 370 in Jammu and Kashmir has turned the spotlight on Section 118 of the Himachal Pradesh Tenancy and Land Reforms Act as well. To many, it appears that Section 118 is the equivalent of Article 370. "Sitting in Punjab, I can buy land in Australia, America, New Zealand and Canada, but not in Himachal, my neighbouring state. All Indians should be allowed to buy land in any part of India," a gentleman wrote in the Letters to the Editor section of this newspaper after the abrogation of Article 370. He wasn't speaking just for himself — random conversations on the issue prove that many share his discontent.
ALSO READ: The fear of losing land to outsiders grips Valley
Jokes and uninformed rants apart, the truth is that Section 118 does not put an absolute ban on the sale and purchase of land and property in Himachal. It restricts the transfer of land to a person who is not an agriculturalist of the state, including even the non-agriculturalists of the state. Section 118, however, has provisions through which, with the approval of the government, one can buy both land and property in the state.
Permissions required
"There's no permission required to buy/lease a built-up property in the area falling within a municipal corporation, municipal committee, notified area committee and cantonment boards," says a senior bureaucrat who has handled Section 118 cases. "One can also buy land/plot in the urban areas from the Himachal Pradesh Housing and Urban Development Authority and other government agencies. Again, no permission is required here either."
But what about buying land outside municipal limits, all of which is designated as agricultural land in the Act? "Section 118 doesn't prohibit but regulates the sale of agricultural land. A non-agriculturalist needs to apply, state the purpose for which he wants to buy the land, and the government takes a decision on his request within a set time-frame," adds the bureaucrat. "People are granted land for varied purposes, ranging from setting up an industrial unit, educational institution, tourism, etc. Also, people can get up to 4 acres of land to practise agriculture, and a maximum of 500 square metres for residential purposes."
The permission is granted only if the government is satisfied with the stated purpose behind buying the land and the individual's ability and background to carry out the project. While the bureaucrat claims the permission is generally granted, one needs to take the assertion with a pinch of salt.
"Permissions are not denied generally at the secretariat and Cabinet level. But many applications are rejected at the entry-level (DC office), where they are scrutinised for documents and NOCs. It's quite a cumbersome and time-consuming process," says a property dealer who liaises with the authorities on behalf of his clients for permissions under 118. "For commercial projects, permissions are relatively easier. But for residential purposes, the process is more arduous and time-consuming."
"It's not easy to get permission under Section 118. Mostly, the influential and powerful get it," a former deputy mayor of Shimla points out.
Idea behind Section 118
Come to think of it, a too lenient approval system would defeat the whole purpose behind inserting Section 118 in the HP Tenancy and Land Reforms Act in 1972. The Section was included to avoid the accumulation of land in the hands of a moneyed few, and prevent alienation of agriculturalists from their land. "Section 118 became mandatory for Himachal because there's limited agricultural land because of mountainous terrain, and consequently landholdings, too, are small," says Rakesh Singha, CPI(M) MLA from Theog. "Besides, back in 1972, when the clause was inserted, the state's economy was entirely dependent on agriculture and horticulture. In this backdrop, transfer of land to non-agriculturalists would not only have hurt the farmers, but also the economy of the state.
"Even today, close to 90 per cent of the state's population lives in villages and is engaged in agriculture and allied activities. Agricultural land continues to be scarce, and close to 60 per cent of landholding is less than 6 bighas. With no protection, won't these marginal farmers, when in distress, be susceptible to sell their land?" asks Singha. "For weaker and backward sections, protection is needed. A similar law ensures that no outsider, including the Himachalis, can buy land in the tribal district of Kinnaur," he says.
Discontent within state
Even as there's general consensus across party lines in the state on the utility and continuity of Section 118, the non-agriculturalist Himachalis do harbour discontent. Section 118 equates them with non-agriculturalists from outside the state, and hence they need to follow the same procedure as any other person from outside the state to buy land.
The Section, however, allows the transfer of land to landless labourers, landless persons belonging to Scheduled Castes and Scheduled Tribes, village artisans and a few others. "There should have been a clause in Section 118 to safeguard the interests of landless Himachalis who have been residing here before 1972," says BJP leader Ganesh Dutt. "Those residing here before the Act was amended should not have been debarred from buying land. It has made several people second class citizens in their own state. It's something we want the government to look into if ever any amendment is made to the Act."
Despite the grouse, Dutt believes Section 118 is in the interest of the state and should not be tinkered with. "(Former CM) Dr (Yashwant) Parmar showed a lot of farsightedness in introducing Section 118. It watches the interest of small farmers, and overall of the state as well," says Dutt. "And, of course, there's no comparison between Section 118 and Article 370."
---
Restrictions in various states
Laws and rules restricting land purchase vary from state to state in India. Schedules Five and Six of the Constitution contain provisions to administer and control Scheduled Areas. Also, in certain states, only an agriculturist can purchase farm land.
Jharkhand: The Chotanagpur Tenancy (CNT) Act, considered the Magna Carta for tribals, was enacted in 1908 after the Birsa Movement to govern land issues and prevent land alienation. Section 46 restricts transfer of land belonging to Scheduled Tribes/Scheduled Castes and Backward Classes. But they may transfer their land through sale, exchange, gift or will to fellow community members and residents of their own police station area.
West Bengal: As per the West Bengal Land Reforms Act, private ownership of agricultural land in the state is capped at 17.5 acres for irrigated areas and 24.5 acres for rainfed areas. In urban areas, private ownership is capped at 7.5 cottahs or one-eighth of an acre. Only tea gardens, mills, workshops, livestock breeding firms, poultry farms, dairies, and townships are exempted from restrictions of the Land Reforms Act.
North-East and Darjeeling: States under Sixth Schedule of Constitution include Assam, Meghalaya, Tripura, Mizoram and the areas under the Gorkha Hill Council, Darjeeling in West Bengal. Here restrictions are imposed on outsiders to buy land. Autonomous Councils in each of the states have the sole right to regulate sale-purchase of land.
Sikkim: Article 371(F) grants special provisions to Sikkim, which prohibits sale and purchase of land or property to outsiders. Only Sikkimese residents are permitted to buy land there, and only tribals can buy land and property in the tribal areas. Outsiders can buy land in Sikkim, but only to set up industrial units.
Arunachal Pradesh: Sale of land or property to outsiders and non-tribals is prohibited. Till last year, even the indigenous tribals had no right over land as an individual. Land was owned by communities.
Nagaland: Article 371A prohibits non-residents from buying land. Land can only be bought by tribals who are residents of the state.
Odisha: The Odisha Scheduled Areas Transfer of Immovable Property (by Scheduled Tribes) Regulations, (OSATIP) 1956, was enacted to curb land transfer to non-tribals. The regulation was amended in 1966, 1975, 1997 and 2002 to make it stricter. But later some tribal groups raised demands for permission to sell their land to overcome fund crisis in an emergency situation. The state government is considering some relaxation.
Andhra Pradesh and Telangana: As per the Land Transfer Regulation Act I of 1970, in no way can tribal land be alienated to non-tribals.
Madhya Pradesh and Chhattisgarh: There are provisions to restrict and prohibit land transfer from tribals to non-tribals.
Uttarakhand: The state government had enacted an amended version of the Uttar Pradesh Zamindari Abolition and Land Reforms Act in 2003 to stop exploitation of agricultural land in rural areas. Outsiders could buy only 500 sq metres of agricultural land for residential purposes, reduced to 250 sq metres in 2007.
Gujarat: Agricultural land can't be purchased by a non-agriculturist. Earlier, only those residing in the state could invest in agricultural land but, in 2012, the Gujarat High Court allowed any agriculturist to purchase such land in the state. But special law applies in the tribal-dominated areas.
Maharashtra: Only an agriculturist can purchase agricultural land and if a person holds such land anywhere else in India, he can still be deemed an agriculturist in Maharashtra. The maximum ceiling limit for such land is 54 acres. Here also restrictions are imposed under Schedule Five. But a recent notification by the Governor ruled that tribal land acquisition for vital government projects doesn't require consent of gram sabha in Panchayat Extension of Scheduled Areas (PESA).
Karnataka: Only an agriculturist can purchase agricultural land. A non-agriculturist is a person whose income from any source exceeds Rs 25 lakh per annum (earlier the limit was Rs 2 lakh per annum). Under Section 109 of Karnataka Land Revenue Act, 1964, social or industrial organisations can purchase agricultural land with government approval.
Compiled by Mukesh Ranjan
---
Section 118 necessary
Agricultural land continues to be scarce in Himachal, and close to 60 per cent of landholding is less than 6 bighas. With no protection, won't these marginal farmers, when in distress, be susceptible to sell their land? — Rakesh Singha, CPI (M) MLA from Theog
118 is regulatory
Section 118 doesn't prohibit but regulates the sale of agricultural land. A non-agriculturalist needs to apply, state the purpose for which he wants to buy the land, and the government takes a decision on his request within a set time-frame — A Senior HP Bureaucrat
Top News
Action taken under relevant Section of Unlawful Activities (...
Says wants it to commit constructively to establish facts
Blinken says it is 'important for India to work with the Can...
Harpal Cheema responds to Governor Banwarilal Purohit's lett...
Pawar and Adani first inaugurated a factory at a village in ...