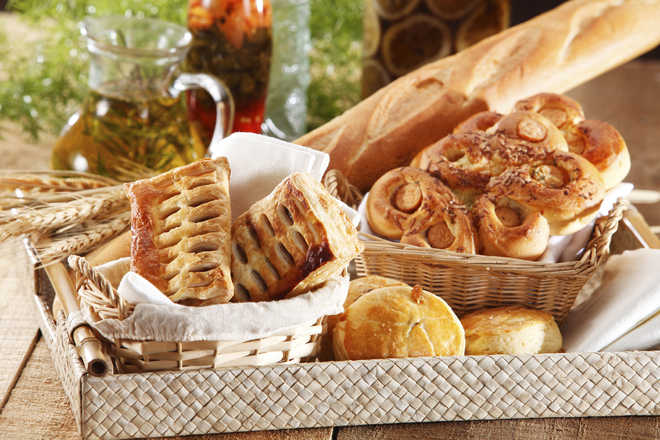 Anjali Mukerjee
We often hear that maida (white flour) or products made from it are bad for our health. But why really it is bad or how much it can harm us is not known to many of us.
Most of the food items made of maida are very tasty, but these actually affect our health and not in a way you and I like. Processed foods like white flour, refined sugar, soft drinks are widely available and mostly unavoidable. They make us feel over fed and under nourished because they provide naked (empty) calories. Food manufactures skilfully remove the endosperm of the wheat (white flour) from the germ (wheat germ) and the bran (wheat bran). Foods made from refined flour, refined sugar and refined oil borrow nutrients from the body in order to aid their own absorption, thereby depleting the body's reserves of vitamins and minerals. Even if the white flour that you buy reads 'enriched flour', it only means that four-five vitamins have been added and 10 have been lost during processing. Wheat, in its refined form, is harmful to the body as it is not only fattening, but also the root cause of most diseases in the 21st century. It has a high glycaemic index (GI 71) and people, who eat maida, eat twice the number of calories as compared to those who eat 'whole' unprocessed, low GI foods.
The bread that we use as a breakfast option is also made up of maida. Roomali roti, naan, cakes, pastries, most baked foods, biscuits, snacks, pastas, noodles, samosas… the list is endless! Maida is found in all junk food. It is found everywhere in hotels, households, roadside eateries and bakeries. Nutritionists and doctors usually advise us to decrease the salt intake if a person has a blood pressure problem, and to control 'sweet intake' in diabetes… but maida is a food which needs to be avoided in all degenerative health conditions!
Its many harms
Foods that are made from maida have a high glycaemic index for e.g. foods like noodles, pasta, white bread, etc. As maida has a high glycaemic index, it will release sugars into the bloodstream quickly. This causes a sharp insulin response, which over a period of time, with prolonged consumption of processed and refined food, causes inflammation, insulin resistance and eventually type II diabetes.
Fried maida products make it worse! When foods containing maida are fried — for e.g. samosas, chaklis, fried noodles, kachori, puran poli, cheese pastas, lasagnes — the body gets an overdose of fat and refined carbs, which disrupts your metabolism, leads to inflammation, hyperinsulinism, insulin resistance and eventually type II diabetes, heart disease, arthritis, Alzheimer and even cancer.
Eating maida also raises your bad cholesterol (LDL), makes you fat, clogs arteries, raises blood pressure, disrupts blood sugar, keeps you hungry, makes you crave for sweets, causes mood swings and ruins your health, looks and relationships. People eat it because they are probably unaware of its consequences. They also eat it because some nutritionists' advocate maida products such as pani puri, cheese cakes, pastas, noodles and pizzas to patients who are desperate to lose weight but are unable to give up their addictions to white flour. Instead of counselling the ill-informed patient, these nutritionists feed their desire for junk foods.
Moderate use
It is easy to say that maida is bad, but food items made from maida are everywhere. Also these foods are tasty, making it even tougher for them to stay away from them. One should make sure that your diet includes a lot of fruits, vegetables and whole grains.
And if one cannot avoid maida products, then they should be eaten once in a while and in moderation. As you can see there are plenty of very good reasons for excluding this type of flour from your diet or at least cutting it down to an infrequent treat. There are many alternatives to this refined flour, which includes the use of whole wheat flour.
For a healthy life, one should eat a balanced diet which provides you with all the nutrients. Also, some kind of exercise is necessary. One should make sure that walking is done for at least 30-40 minutes daily.
The writer is a nutritionist and founder director Health Total
Top News
Addressing a press conference ahead of Navy Day, he says the...
The move will allow more than 200,000 workers who have famil...
BSF jawans hear buzzing sound of a Pakistani drone at midnig...
Mishap occurs because of dense fog
The authorities suspend the accused and initiate an inquiry ...