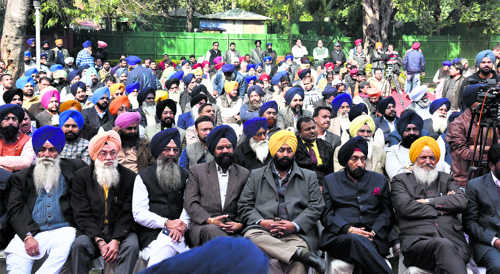 When a Congress leader warns voters about a Punjab-like fate waiting for them if they choose a BJP-SAD government and an Akali talks about the injustice to the 1984 anti-Sikh riot victims, it just underscores the importance of Punjabis and the Sikh community in the Delhi Assembly elections.
With the Aam Aadmi Party breathing down its neck in Delhi, it was not without reason that the Bharatiya Janata Party not only toned down its rhetoric against coalition partner Shiromani Akali Dal, but also tried to mend fences after a bitter eight months between the ruling partners in Punjab since the Narendra Modi government won a resounding victory.
The more than 35 per cent Punjabi vote has always been a decisive factor in the national capital and a majority government in Delhi is not possible without the support of Punjabis, who had come to Delhi in large numbers after Partition. Around 20 constituencies have 15-20 per cent Punjabi votes. In eight seats, Punjabis account for more than 20 per cent of the total voters.
Sikh voters can make an impact in 18 of the 70 constituencies. In four of these Sikh-dominated seats — Rajouri Garden, Hari Nagar, Kalkaji and Shahdara — the Akali Dal has fielded its candidates, though only one of them, last time's winner Manjinder Singh Sirsa, will be contesting on the party's symbol of scales. The rest will be contesting on coalition partner BJP's symbol of lotus.
In 2013, the Shiromani Akali Dal had contested two seats on its own symbol (scales). Manjinder Singh Sirsa had won from Rajouri Garden, while Shyam Sharma lost the Hari Nagar seat to AAP's Jagdeep Singh. Two Akalis — Harmeet Singh (Kalkaji) and Jatinder Singh Shunty (Shahdara) — had contested on the BJP symbol and won their seats.
The entire Akali leadership is here to woo not only the Sikhs, but also the large Punjabi constituency. For the Akalis, winning the four seats is important not only because it is still smarting from the BJP's aggressive tone and tenor, but also because it sees in Delhi a chance to spread its electoral wings in Uttar Pradesh and Uttarakhand.
Punjab Revenue Minister Bikram Singh Majithia feels the party has a good following wherever the Punjabi population resides. "People in Delhi or other parts are connected with Punjab through their roots, relatives and because of business ties. Punjabis the world over look towards Akal Takht and the Golden Temple for direction in life," he feels. Kuljit Nagra, Congress MLA from Fatehgarh Sahib in Punjab and the party's election in charge in Delhi, finds nothing to disagree on this count, but adds his bit: "There was a time when people used to showcase Punjab for its hard-working and healthy youth. Today, it has become a land of drugs, unemployment and dynastic nepotism."
SAD's election in charge Balwant Singh Ramoowalia's focus is how the Congress has been "unfair" to Sikhs. "It has not given any justice. They made a Sikh Prime Minister only to claim him as a symbol. He was never allowed to work. The 1984 riot accused are still at large."
Aam Aadmi Party's Jarnail Singh, who shot into the limelight when he hurled a shoe at then Union minister P Chidambaram in 2009, had lost the last election to SAD's Sirsa from Rajouri Garden. He is back in the fray from the same seat and against the same candidate, but with renewed vigour. Backing him strongly is AAP's Sangrur Lok Sabha MP Bhagwant Mann and other leaders. "AAP leaders would not amass wealth like those in BJP and Congress. We have suffered injustice during their misrule. It is that which led people like me to take the extreme step of throwing a shoe," he says.
At 1.68 crore, Delhi is the second most populated city in the country and has 1.3 crore voters.
Apart from a sizeable Punjabi community, it has an approximate strength of 40 lakh people with roots in eastern Uttar Pradesh: Poorvanchalis. Delhi has a Hindu population of 81 per cent and a Muslim population of 11.7 per cent.
Delhi became a Union Territory on November 1, 1956 with the States Reorganisation Act coming into force. In 1991, through an amendment, the Union Territory of Delhi became the National Capital Territory. The NCT of Delhi came into force in 1993. The elected government of Delhi got legislative powers, except law and order, which remained with the Central government.
About Delhi CMs
Chaudhary Brahm Prakash was the first Chief Minister of Delhi when he assumed office at the age of 34 in 1952. The Congress then won 39 of the 47 seats it contested. The Bharatiya Jan Sangh won five of the 31 seats it contested.
Gurmukh Nihal Singh was the second Chief Minister of Delhi, and also served as the first Governor of the state of Rajasthan.
Delhi did not have a CM for more than 37 years between November 1, 1956 and December 2, 1993 as the state ceased to exist and became a centrally-administered Union Territory.
The first election to the Delhi Legislative Assembly was held in 1993 and the BJP's Madan Lal Khurana (in pic) became the Chief Minister. He was followed by Sahib Singh Verma and then Sushma Swaraj for a very short period — all within the five-year term.
In the 1998 election, Sheila Dikshit of the Congress became Chief Minister and occupied the post till 2013. She is also the oldest to have held the office of the Delhi CM at the age of 60.
Delhi has had seven Chief Ministers. The last one, Arvind Kejriwal, served the shortest term for only 49 days, just three short of Sushma Swaraj's (in pic) (52 days).
Administrative structure
The National Capital Territory of Delhi consists of 70 Assembly constituencies and seven parliamentary constituencies. Delhi has its own Lieutenant Governor, council of ministers and Chief Minister. The Lieutenant Governor (just like the Governor in other states) is the nominal head of the state and is appointed by the President of India. The judiciary consists of the Delhi High Court and the two lower courts. Delhi has three municipal corporations: Municipal Corporation of Delhi (MCD), New Delhi Municipal Council (NDMC) and Delhi Cantonment Board.
AKALI PRESENCE IN POLLS

Rajouri Garden
The richest candidate in Delhi, Manjinder Singh Sirsa of the Shiromani Akali Dal is seeking re-election from this West Delhi seat, which has 14 candidates in the fray and has a strong concentration of Punjabi and Sikh population. He was the first leader to break the 20-year stronghold of the Congress on the seat, won thrice by Ajay Maken. The Congress has fielded Meenakshi Chandela, daughter-in-law of party veteran Dayanand Chandela, but Sirsa's real battle is with Jarnail Singh of AAP. Punjab Minister Bikram Singh Majithia is leading the campaign and his sister, Union Minister Harsimrat Kaur Badal, is also addressing street rallies here.
Shahdara
The constituency's name is Persian for "a door to the king's palace". A Congress stronghold with Dr Narendra Nath winning the seat in 1998, 2003 and 2008, he was defeated in 2013 by Akali leader Jitender Singh Shunty, who contested on the BJP symbol, by over 15,000 votes. The two are again locked in a high-pitched contest. AAP's Ram Niwas Goel is being seen as the dark horse.
Hari Nagar
Only five candidates are in fray here. Akali leader Avtar Singh Hit is contesting on the BJP symbol and is pitched against Jagdeep Singh of AAP and Chander Parkash of the Congress. The BJP got the seat vacated this time from SAD, whose candidate Shyam Sharma lost by about 9,000 votes to Jagdeep Singh of AAP in 2013. The BJP insisted the Akali candidate fight on the BJP symbol as it was only in 2013 that the party lost the seat which was represented by its leader, Harsharan Singh Bali, four times.
Kalkaji
Akali leader Harmeet Singh Kalka is contesting on the BJP symbol in this Congress-dominated seat which he won in 2013 by defeating his nearest rival Dharambir Singh of AAP by only 200 votes. Kalka is facing Avtar Singh Kalkaji of AAP this time. The Congress has pinned hopes on Subash Chopra, who has remained MLA thrice from here from 1998 to 2008.
Aam Aadmi Party's Jarnails
Aam Aadmi Party, which had four Sikhs among its MLAs in 2013, has again pitted Jarnail Singh (in pic) from Rajouri Garden, a seat won by the Akalis in the 2013 Assembly polls. Interestingly, two Independents with the name of Jarnail Singh are also in the fray in this constituency. The AAP has pitted another Jarnail Singh, a sitting MLA who is out to retain his Tilak Nagar seat. Two more Sikh candidates have been put up by AAP: Avtar Singh from Kalkaji and Jagdeep Singh from Hari Nagar.
"Punjabis have always been an effective force in Delhi if we talk of a linguistic base. Barring a strong wave, Sikhs can tilt an election while Punjabis can cause a wave of their own. We got second language status for Punjabi in 2003 while the struggle started in 1964. Now, the struggle is for effective implementation of the second language status." Manjit Singh GK, chief, DSGMC and SAD's delhi unit


"Punjabi has the second language status in Delhi. However, now the issue is its implementation. You don't see road signs, notices in Punjabi. This is a major demand of voters and an issue. We are fighting designs to sideline Punjabis in educational institutions. Justice for Sikh riot victims is also an issue." Amarjit Kaur, CPI gen secy and delhi poll incharge
"Delhi election is very local in nature. There are never en bloc votes by one community. Sikhs or Punjabis are always important being a business community but Assembly election choices are made on local issues and personality of the candidate." Varinder Kataria, former Punjab Congress chief
Key contests

Greater Kailash
President's daughter in fray
The high-profile Greater Kailash (GK) seat will witness a triangular contest. President Pranab Mukherjee's daughter Sharmistha Mukherjee is the Congress candidate and is pitted against BJP's former councillor Rakesh Kumar Gullaiya and AAP's former MLA and minister Saurabh Bhardwaj. The Congress believes that given Sharmistha's image and being the daughter of the President will help the party, though heavy security makes her inaccessible. After becoming a minister in the Kejriwal Cabinet, AAP's Bhardwaj was also unable to connect with the people. BJP's Gullaiya is the husband of the current councillor.
Muslim-dominated seats
Tally in 2013: Cong–4, JD(U)–1
Okhla
Main contest is between Congress candidate and last election's winner Asif Mohammad Khan and AAP's Amanatullah Khan. It would be a repeat of 2013.
Matia Mahal
The main contest is between Congress candidate Shoaib Iqbal and AAP's Asim Mohammad Khan. Iqbal had won in 2013 as a JD(U) nominee.
Ballimaran
Congress candidate Haroon Yusuf, who won the last election, is locked in battle with BJP's Shyam Morwal.
Seelampur
The main contest is between Congress candidate Matin Ahmed, who won in 2013, and BJP's Sanjai Jain.
Mustafabad
Congress candidate Hasan Ahmed is pitted against BJP's Jagdish Pradhan. Ahmad had won last time.
12 reserved seats
Tally in 2013: AAP – 9,
BJP – 2, Cong – 1
The Delhi Assembly has 12 reserved seats: Bawana, Sultanpur Majra, Mangolpuri, Karol Bagh, Patel Nagar, Madipur, Deoli, Ambedkar Nagar, Trilokpuri, Kondli, Seemapuri and Gokalpur.
Except Sultanpur Majra, the main contest in the reserved Assembly constituencies is between the BJP and AAP candidates. In Sultanpur Majra, the main fight is between Congress candidate Jai Kishan, who won last time, and AAP nominee Sandeep Kumar. Dalit BJP leader and MP from North-West Delhi Dr Udit Raj's work has played a major role in the community shifting loyalty to either BJP or AAP from Congress.
Winners in 2013: Bawana seat was won by BJP's Gugan Singh, Gokalpur by BJP's Ranjeet Singh, Sultanpur Majra by Congress candidate Jai Kishan, Mangolpuri by AAP candidate Rakhi Birla, Karol Bagh by AAP's Vishesh Ravi, Patel Nagar by AAP's Veena Anand, Madipur by Girish Soni of AAP, Deoli was won by Prakash Jarwal of AAP.
Ambedkar Nagar was won by Ashok Kumar Chauhan of AAP, Trilokpuri by Raju Dhingan of AAP, Kondli by Manoj Kumar of AAP and Seemapuri by Dharmender Singh of AAP.
Inputs by Himani Chandel & Syed Ali Ahmed
Candid about candidates
34% crorepatis
230 (34%) out of 673 candidates are crorepatis. During the previous Delhi Assembly elections in 2013, 265 (33%) out of 796 candidates analysed were crorepatis and in the 2008 Delhi Assembly elections, 180 (23%) out of 790 candidates analysed had declared total assets worth more than Rs1 crore.

Top three richest
Manjinder Singh Sirsa, the Shiromani Akali Dal nominee from Rajouri Garden, is the richest with declared assets of Rs 239 crore. Next in line is AAP's Parmila Tokas from RK Puram with assets of Rs 87 crore. Third in the list is Sat Prakash Rana of BJP from Bijwasan with Rs 78 crore.

One with zero assets
Sushil Kumar Mishra of Akhil Bharat Hindu Mahasabha, who is contesting from Burari constituency, has declared that he has zero total assets.

Low assets
A total of 80 candidates have declared assets less than Rs 1 lakh.

High liabilities
A total of 32 candidates have declared liabilities of above Rs 1 crore. Three candidates have declared liabilities of
Rs 10 crore and above. It includes the richest candidate, Manjinder Singh Sirsa of the Shiromani Akali Dal, who has declared liabilities of over Rs35 crore.

56% are 12th Pass or below
26 candidates have declared that they are illiterate; 374 (56%) candidates (not including candidates who are illiterate) have declared that have an education qualification of 12th pass or below while 265 (39%) candidates have declared having an educational qualification of graduate or above. 11 (2%) candidates have declared that they have doctorate degrees.


17% face criminal cases
114 (17%) out of 673 candidates have declared criminal cases against them. During the previous Delhi Assembly elections in 2013, out of 796 candidates, 130 (16%) candidates had declared criminal cases.

BJP tops list of tainted
27 (39%) out of 69 candidates analysed from BJP, 23 (33%) out of 70 candidates analysed from AAP, 21 (30%) out of 70 candidates analysed from Congress, 12 (17%) out of 70 candidates analysed from BSP, and 15 (8%) out of 195 Independent candidates analysed have declared criminal cases against them in their affidavits.

Serious criminal cases
74 (11%) out of 673 candidates have declared serious criminal cases against themselves. During the previous Delhi Assembly elections in 2013, out of 796 candidates analysed, 94 (12%) candidates had declared serious criminal cases against themselves and in the 2008 Delhi Assembly elections, out of 790 candidates analysed, 32 (4%) candidates had declared criminal cases against themselves.

69% below 50 yrs
465 (69%) candidates have declared their age to be between 25 and 50 years while 194 (29%) candidates have declared their age to be between 51 and 70 years.

10% women in fray
There are 66 (10%) female candidates out of 673 candidates contesting this year. In 2013, there were 71 (9%) female candidates out of 810 candidates in the fray and in 2008, there were 81 (9%) female candidates out of 875 candidates contesting the elections.

(Source: Association for Democratic Reforms)
Top News
Says one of the Bills seeks to give representation in Assemb...
Among the 10 who put in their papers are nine Lok Sabha MPs,...
Resignation of Union ministers also revived speculation of r...
The withdrawal of statement by MP Senthil came when the Hous...
The Punjab DGP office had written a letter to Rajashthan Pol...