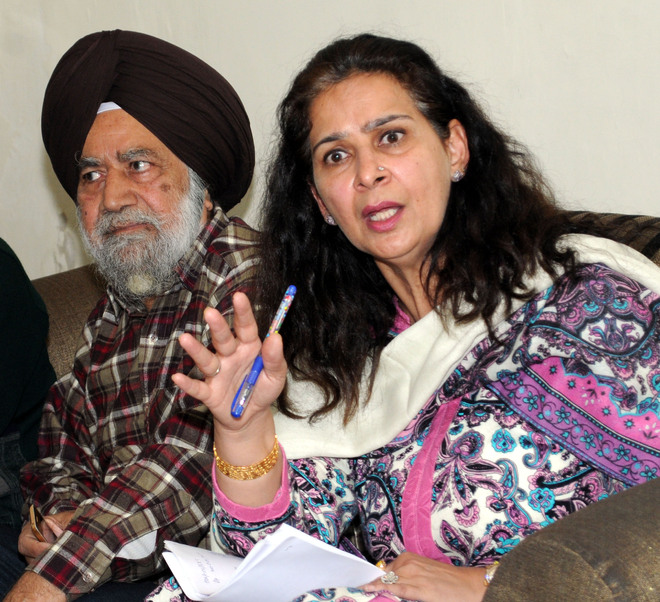 Tribune News Service
Amritsar, November 27
Chief Parliamentary Secretary and BJP MLA Dr Navjot Kaur Sidhu today said she would quit the BJP if it joins hands with the SAD in the upcoming 2017 Assembly elections.
Launching a scathing attack over the functioning of civic authorities here, she alleged there was no vision for development in Amritsar and public money was being wasted away.
On whether she would join AAP, she said options for her and her husband Navjot Singh Sidhu, who is also a member of the BJP, were open. "We have not yet decided what to do in the next elections. We have our own ideology, if they (AAP) like it, they can follow it," she said.
Speculations are rife that AAP, which is devoid of a popular face in the state, might project the flamboyant cricketer-turned-politician Navjot Sidhu as party's Chief Ministerial candidate for 2017.
"Navjot has not yet been entrusted with any responsibility by the BJP in the state. As far I am concerned, I have been a BJP worker for the last five years. If the BJP joins hands with the SAD again, I will not contest for the alliance," she said.
Navjot Singh Sidhu stopped being politically active ever since he was "denied" the ticket by the BJP for the Amritsar seat during the Lok Sabha elections last year. He apparently paid the price of taking on the ruling Badal family, who he accused of scuttling his pet projects.
"My husband's multi-core projects like solid waste management plant and canal-based water supply scheme for Amritsar were deliberately scuttled by the SAD top leadership. Now, the local public friendly projects conceptualised by me were being overlooked by the local civic authorities," she said.
She also threatened to move court if the authorities do not respond to her requests within two weeks. "I, along with affected residents, will block roads during the upcoming Sadbhavna Rally if our projects are not taken seriously," she said. Meanwhile, she endorsed AAP MP Bhagwant Mann's challenge to Deputy CM Sukhbir Badal. Mann has dared Sukhbir and other leaders to take a dope test.
Top News
Tensions flared between India and Canada after Trudeau's exp...
The bureau had launched an investigation into the matter bas...
Rudrankksh shoots 632.5, Tomar 631.6 and Panwar 629.6 to agg...
Victim claims her husband had borrowed Rs 1,500 from Pramod ...
Chinese consul general says relations between the two countr...