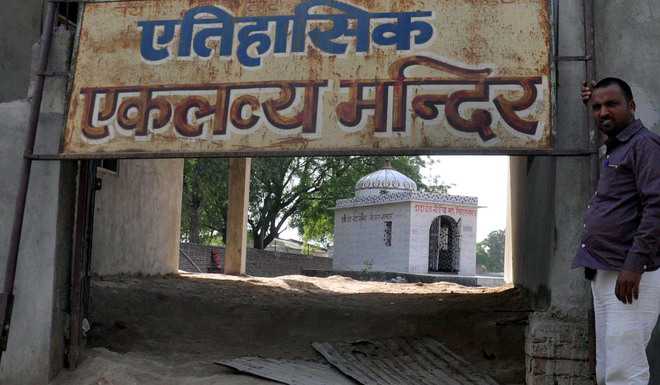 Sumedha Sharma
Tribune News Service
Gurgaon, April 14
While the state government pats its back for renaming Gurgaon to Gurugram, least has been done to preserve the heritage that supposedly triggered the name change. The rechristening has catapulted the long forgotten temples of Dronacharya and Eklavya into the limelight, the Mahabharata legends who inspired the move.
Not many would know about the Dronacharya temple nestled in the bustling Bheem Nagar area of Old Gurgaon. The one-room temple was built by an affluent resident of Gurgaon village in 1721 AD. The water tank alongside the temple has long vanished. Hardly any tourists venture to the temple, largely frequented by locals.
"Other than residents of Old Gurgaon, even the local administration seems unaware about the existence of this temple, just a stone's throw away from the Dronacharya College. The government has never cared to maintain the ancient temple or save the water tank, already in ruins. We hope, the change of name to Guru Gram will change the temple's fate, too," said Kali Ram Sharma, a temple caretaker.
Eklavya Temple situated in Khandsa village, too is in ruins. According to the legend, Eklavya cut off his right thumb and gifted it to Dronacharya as Guru Dakshina here. It is believed that the thumb was buried and a samadhi erected at the place where the temple stands today. The shrine is revered by followers of the Noia sect who come from far and wide to pay their obeisance here.
The villagers have been trying hard to maintain the temple and the two-room dharamshala, from the funds allocated to the village panchayat. The Municipal Corporation has no shortage of funds, yet no money is spent on maintaining the temple, which would change the fate of the village, besides rejuvenating the lost heritage. Ironically, they talk about Geeta and the legendary heroes of Mahabharata, but they've forgotten the sacrifices made by them," quipped a panchayat member.
Top News
Health Ministry launches probe into four alleged substandard...
Addressing a rally, Shah asks whether terrorism has ever ben...
MEA had reacted sharply to Ilham Omar's visit to PoK
Development in Himachal possible as people voted BJP to powe...
The Ministry of Defence spokesperson from Tezpur says the mi...