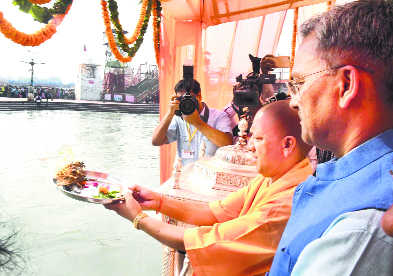 Tribune News Service
Dehradun, May 28
Uttarakhand CM TS Rawat and UP CM Yogi Adityanath on Monday laid the foundation stone of 100-room tourist complex to be built at a cost of Rs 41 crore on the premises of Hotel Alaknanda in Haridwar on Monday.
UP has agreed to hand over Alaknanda Hotel that was in its possession to Uttarakhand in lieu of a piece of land that is located on the premises of Hotel Alaknanda on the banks of river Ganga.
T S Rawat, in his address, said that in the last one year, several issues related to division of assets and liabilities between the two states had been resolved.
He said to promote tourism both the states would have to start working on joint ventures. Similarly, for conservation and preservation of water, both the states would have to come up with a long-term policy.
Yogi Adityanath said the new tourist complex would be named Bhagirathi Tourist Complex. He said all the pending issue of division of assets between the two states would be resolved through negotiations within the next two months. Yogi Adityanath said that UP would support any initiative to promote tourism taken by Uttarakhand.
He said before the Kumbh mela at Allahabad on in 2019, a work plan had been chalked out to stop the flow of all the sewers and Nallahs falling into Ganga river by December 2018. For this 1,556 villages along Ganga in 27 districts in Uttar Pradesh have been identified. Both of them also performed Ganga Arti at the river Ganga.