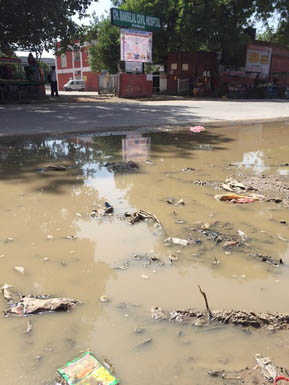 Tribune News Service
Chandigarh, September 28
Dengue continues to spread its tentacles in Haryana with the state reporting 1,727 cases. The authorities have confirmed two deaths from dengue — one from Ambala and the other from Panchkula. Sources, however, claimed the number of cases was much less than those reported in Delhi (4,769 cases and 17 deaths) and Punjab (more than 3,100 cases and 2 deaths). Rohtak with 444 cases and Gurgaon with 237 cases continue to report the highest incidence of dengue cases in the state.
Rohtak
In all, 444 cases of dengue have been reported from the district so far. No death due to dengue has been reported.
Gurgaon
The Millennium City has reported more than 237 confirmed and 800 suspected cases. No death has been reported from the city. The district administration, meanwhile, has fixed the price of a dengue diagnostic test at Rs 600, as there were complaints of private labs and hospitals fleecing patients on this count.
Sonepat
Civil Surgeon Dr JS Punia said 723 people were tested for dengue out of which 33 tested positive. "No one has died from dengue in the district," he claimed.
Jhajjar
In all, 104 confirmed and 30 suspected cases have been reported in the district in a month. The condition of all patients is said to be out of danger. Bahadurgarh sub-division is the worst affected area. Isolation wards at Bahadurgarh and Jhajjar general hospitals have been set up to treat patients.
Faridabad
The number of dengue patients has risen to 54 this season. Last year, 47 cases were reported. There were 11 suspected and two confirmed cases of dengue in the Civil Hospital on Monday. The suspected cases of dengue in the district are reported to be 1074. There has been no confirmed death so far.
Hisar
The number of dengue patients has reached 190 in the district, while two deaths reportedly from disease have been reported. Nodal officer Dr Sushil Garg said a separate OPD had been set up for dengue patients so that they could be treated on priority.
Bhiwani
The tally of dengue cases has touched 101 mark in the district. They are being treated at Chaudhary Bansi Lal Civil Hospital. A large number of dengue cases are getting treatment at private hospitals in Hisar and Post-Graduate Institute of Medical Sciences (PGIMS), Rohtak. Chief Medical Officer Dr Ramesh Dhankhar claimed there had been no deaths from dengue in Bhiwani.
Ambala
There are 49 cases of dengue with one death reported so far. The deceased was a TTE with the Railways and reportedly contracted dengue in Gurgaon. He was kept at a hospital of railways from where he was referred to Fortis Hospital, Mohali, where he died. Extensive fogging is being carried out across the district.
Kurukshetra
The number of dengue patients has reached 68 in the district so far, while the test results of five patients are awaited. Dr Lalit Kalsan, nodal officer, said: "The condition of patients is stable. Twelve patients are under treatment at various hospitals, including seven at Lok Nayak Jai Prakash Civil Hospital, while the remaining 56 patients have been discharged."
Yamunanagar
Civil Surgeon Dr Vijay Garg said 15 confirmed and 51 suspected cases of dengue were reported in the district. He claimed a woman died of dengue in Jagadhri.
Jind
With 16 more cases reported today, the number of patients in the district has reached 99. Due to lack of facilities in local hospitals, patients are being referred to PGIMS, Rohtak, or Hisar hospitals.
Top News
Police say report on wrestlers' allegations to be submitted ...
The protesting wrestlers will not attend the congregation
Says he is protected at both these places by the Punjab Poli...
Based on the FIR, it is revealed that his daughter had been ...
Were arrested after a brief encounter in Kharar in the wee h...