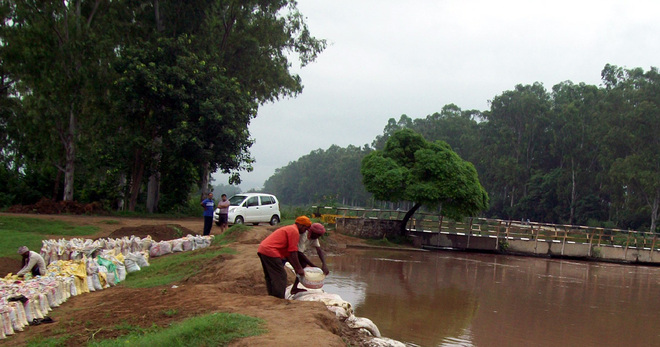 Sarbjit Dhaliwal
Tribune News Service
Chandigarh, August 9
The canal network, considered to be a lifeline of the agriculture sector, is in bad shape in the state. It needs to be refurbished immediately.
The state government has sought a package of Rs 5,000 crore to take up the renovation work of various canals. However, there has been no response from the Centre so far.
During the previous government, the Centre had released some funds under the accelerated irrigation benefit programme to the state government to renovate a canal.
The 14,500-km-long canal system caters to the irrigation needs of about 27 per cent of the total land area under agriculture in the state.
The remaining 73 per cent area under agriculture is, by and large, dependent for irrigation on tube wells, the number of which is approximately 13 lakh.
"With the revamping of the canal system, we can easily increase its irrigation capacity to 37 per cent of the land area from the existing 27 per cent," said KS Pannu, Secretary, Irrigation.
"As the Bist Doab canal is an important artery that supplies water to a considerable area, the state government has decided to immediately take up work on it by arranging funds from its own sources," said Pannu.
On the over-exploitation of the subsoil water due to the reckless pumping out of the water through tube wells, the environmentalists have expressed their concern regarding the declining subsoil water table in the state.
They have repeatedly warned that the state would be reduced to a desert in case water continues to be pumped out injudiciously. Already, more than 100 blocks have been declared over-exploited in the state. For this reason, there is a dire need to improve the canal system.
As a result of the deterioration in the canal system over the years, the water-carrying capacity of various canals has gone down considerably.
The water-carrying capacity of the Bist Doab canal was designed to be 1,400 cusecs but it has reduced to 1100 cusecs because of the silting up of its bed. Same is true of the Upper Bari Doab canal system.
Likewise, the water-carrying capacity of the Sirhind canal system, crucial for the central part of the state, has been hit substantially over the years.
There is a need to brick-line the slopes of all 'kutcha' canals in the state, besides the removal of silt from the canal beds. The Bhakra Mainline Canal and its off-shoots also need renovation at various places. Its brick-lining at various places has also peeled off.