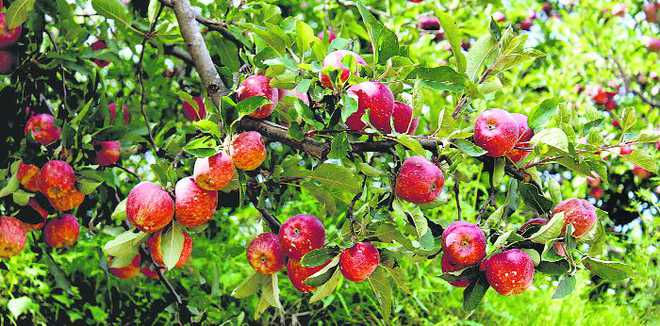 Chiranjit Parmar
Cultivation of apple and other hill fruits was started in north-west India by foreigners about 150 years ago. Except one American, they were all Englishmen. The fruit varieties came from England and the US. Apple varieties from the US became the first choice of people and continue to dominate even today. In the case of other fruits, these were from Europe.
Initially, the selection of these varieties was not based on scientific testing. These people just imported and planted popular fruit varieties of their area.
Systematic work to promote commercial orcharding began after Independence. A network of progeny-cum-demonstration orchards, particularly in Himachal Pradesh, was created. In these orchards, varieties of nearly every fruit were planted. As the climate at every location was not favourable for all fruits, only those survived which could grow in those areas. Later, fruit research stations were established in different climatic zones. Hundreds of varieties were planted at these research stations to know what could profitably be grown.
Research stations were established under this programme in Himachal Pradesh's Mashobra (apples), Sharbo in Kinnaur (raisin grapes), Kandaghat (stone fruits) and Dhaulakuan (citrus and subtropical fruits), besides Patiala and Abohar in Punjab for subtropical fruits. This resulted in the selection of apples of the 'delicious group' for hill farmers, kinnow mandarin for fruit growers of the plains, varieties of peach, plum and apricot for the hills, and mango, citrus fruits, litchi etc. for farmers from the subtropical zone.
But this happened 60 years ago. After that, virtually no work was done in the area of introduction of new varieties of fruits, though a lot of new facilities for fruit research have come up.
Ultimately, the governments, especially in Himachal Pradesh, adopted an easy way to solve this problem. They started by importing plants of new varieties from foreign countries. This has been going on for the past 4-5 years. The selection of new varieties does not seem to have been done on any particular basis. Therefore, questions are being raised about the whole system.
The present generation of fruit scientists avoids working on fruit varieties due to two reasons. First, it takes very long to get results. In the case of fruits like apple or mango, you make crosses in 2019. The seedlings from these crosses will be available in 2020. Then you plant them in the field after one year and then wait for another 7-8 years for coming them into bearing. The fruits you get may not be of your target quality. For example, there are two varieties, A and B. A has tasty fruit, but its trees get easily infected by diseases. B's trees resist diseases, but the fruits are of poor quality. By crossing these two, we try to develop a disease-resistant variety with good fruit quality. But it is not necessary that fruits from the seed will have A's taste and B's disease resistance. It all depends upon chance and the breeder has no control over the outcome.
Let us suppose that you succeed (of course after waiting for 7-8 years) in getting a fruit with the desired traits. But that is no all. The new plant (or variety) has also to be observed for other traits like yield, season of ripening, and susceptibility to pests and diseases. This may take another 7-8 years as you cannot know the precise yield of a fruit tree till it attains its full size. So, it can easily take 15-20 years in evolving a new variety. It is not easy to wait so long. The researchers also do not stay at the same place for so long.
The second reason is that in the case of fruit breeding, the scope for publication of research papers, which are the main measure of performance of research workers, is much less than that in other fields. So, researchers in fruit breeding are always at a disadvantage when competing for promotions and career advancement.
Therefore, fruit breeding is the last choice of young fruit researchers. The Department of Fruit Breeding at Nauni Horticultural University had to be closed after 25 years as it could not show enough progress for justifying its existence.
There is another reason for young researchers not opting for this field. In the research community, that work is considered superior which involves the use of the latest and sophisticated laboratory instruments. In the case of evaluation of new varieties, nothing of that sort is required because you only have to check simple quality parameters like appearance, colour, flavour and yield. These are just ordinary observations not requiring sophisticated technology. So, young scientists dreaming of post-doctoral research in a foreign university avoid entering this arena. This is happening across India.
The solution to this problem is to start fruit research stations exclusively for research on new fruits, new varieties and breeding new fruit varieties. At these research stations, all researchers will be doing the same kind of research and won't have to compete with colleagues in the areas where it is possible to publish more research papers in a relatively shorter duration. The evaluation of these researchers should be carried on the basis of the number of hybrids raised by them and not by the number of research papers published.
I had the opportunity to work at two leading fruit breeding institutions in Europe. One was the Centre for Fruit Breeding, Holovousy, Czech Republic. The second was the Division of Fruit Breeding of the Swedish University of Agricultural Sciences at Balsgard, Kristianstad. Although this centre was part of the Horticulture Department, the researchers were doing only fruit breeding and had nothing to do with other areas of fruit research. Both places are famous for their output.
As in Sweden and the Czech Republic, let us have research centres where newly developed foreign varieties are planted and observed thoroughly for a few years before releasing these to orchardists. Work on the evolution of new varieties by hybridisation may also be shifted to such centres. Let it be done at the earliest, otherwise the research on new varieties will continue to suffer — as is happening now.
The writer is a senior fruit scientist based at Mandi (Himachal Pradesh)
Please send your feedback to infocus@tribunemail.com