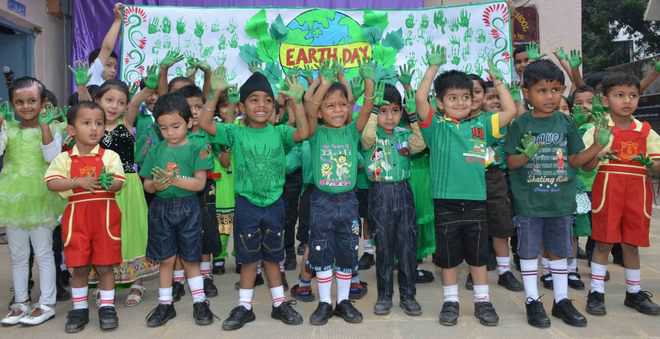 Tribune News Service
Dehradun/Mussoorie, April 22
Earth Day was celebrated across Dehradun today. Various institutions organised workshops, seminar and competitions to mark the day.
A workshop titled 'Caring Mother Earth' was organized under the aegis of UCOST and the Society of Pollution and Environmental Conservation at the Uttarakhand Council of Science and Technology office at Janjhara, Dehradun. UCOST Director General Rajendra Dobhal stressed on undertaking environment-friendly sustainable development to save earth.
Padam Shree Prof AN Purohit referred to the history of Earth Day celebrations. He told the gathering that Earth Day was formally observed in 1970. With population rising, pressure on both flora and fauna increased tremendously and thus it was important to save mother earth by its judicious exploitation.
Padam Shree Dr Anil Joshi, at another workshop organised by the Uttarakhand Space Application Centre, said frequent natural disasters such as floods, landslides and forest fires were a grim reminder of the fact that human greed has led to rampant exploitation of natural resources. Students pledged to conserve mother earth at a function held at Brooklyn School here.
NGO Harita Dhara Research Development and Education Foundation also celebrated the day by organising a poster and painting competition.
NGO Pramukh also organised a function to mark the occasion. Meanwhile, the day was also celebrated with fervour in Mussoorie.
Volunteers of the National Service Scheme(NSS) of Mussoorie Girls Inter College took out a rally to create awareness towards preserving forests and conserving water on the Mall Road under the aegis of Sparsh Ganga Board Uttarakhand project on World Earth Dayin Mussoorie.
Programme officer Deveshwari Nayal appealed volunteers to go to villages and promote afforestation and water conservation.
The students also presented a street play, highlighting the need to save the earth from pollution and global warming.
The Army Eco and Environmental Park developed by 127 Infantry Battalion (TA) Eco, Garhwal Rifles was inaugurated at Garhi Cantt Dehradun.
The Army Eco and Environmental Park was inaugurated by General Officer Commanding Uttarakhand Sub Area Major General Shammi Sabharwal at a simple function attended by senior Army officers and civilian dignitaries.
NSS volunteers hold awareness rally
Dehradun: National Service Scheme (NSS) volunteers and Sparsh Ganga Board members held an awareness rally in different areas of the city to mark Earth Day here on Friday. Students said it is the duty of everyone to contribute towards environment conservation. NSS Programme Officer Kiran Arya spoke on the importance of conserving the environment. She said every section of society should come forward to conserve the environment. Arya said students should create awareness among residents about the ill-effects of using polythene bags, and plastic material. She also spoke on the ill-effects of global warning in the world.—TNS
Paul plants saplings
Dehradun: Governor KK Paul planted saplings of jamun and sharifa (sugar apple) on the Raj Bhawan premises on Friday to celebrate World Earth Day. He said Mother Earth looked after the needs of all beings. It was due to the greed and unbalanced exploitation of natural resources by human beings that there was an increase in calamities. "We must remain sensitive and alert towards the protection of our Mother Earth," he added.—TNS