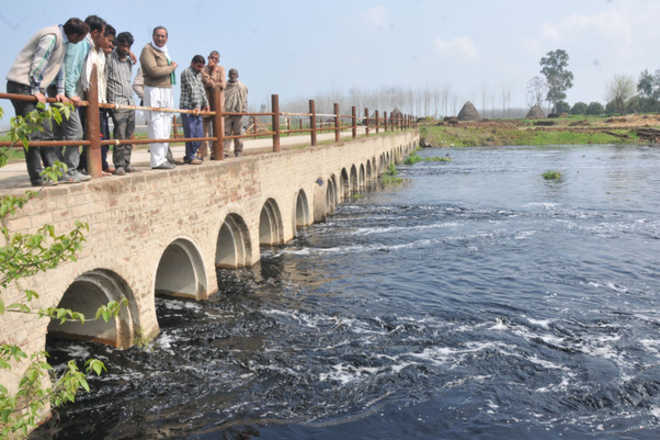 Parveen Arora
Tribune News Service
Dhanaura (Karnal), March 3
Polluted water discharged from Yamunanagar and Jagadhri industries has endangered the lives of thousands of residents of 27 villages situated near Dhanaura escape.
The metal and chemical content in the water has made the quality of groundwater poor. It has also affected soil fertility and farmers are facing financial losses due to this. Villagers alleged industrialists living in Yamunanagar and Jagadhri were making money at the cost of their health.
The toxic water enters the district through the Dhanaura escape near Dhanaura village, around 45 km from the district headquarter. It then enters the Yamuna near Kunjpura village after passing through Kalri Jagir, Dabkoli, Mundogarhi, Bjidpur, Nalikhurd, Mahamedpur, Khirajpur, Sadapur, Majra, Chora, Modipur, Dalwala, Andheda, Shergarh, Jadauli, Dabarki, Garhi Birbal and others villages, jeopardising the clean Yamuna mission.
Narinder Kumar, former sarpanch of Jadauli village, said the water flowing in the escape was black and emitted foul odour. "It makes it impossible for us to pass from near this escape," said Baljeet, a farmer of Jadauli village.
The contaminated water is also taking a toll on people's health. Many people in these villages were suffering from skin problems, said Dilbag Singh of Dabkoli village.
"We have raised the issue with the authorities several times, but no action has been taken to solve the problem," said Shyam Lal, a farmer.
Rattan Mann, state Bhartiya Kisan Union (BKU) president, said they had taken up the issue with the district authorities and also handed over a memorandum addressed to CM Manohar Lal Khattar and Union Minister Uma Bharti to Deputy Commissioner J Ganesan a few days ago.
He said the OSD to the CM had assured them that a high-level committee would be constituted to solve the issue.
Top News
The Khalistan sympathiser said if the state government had t...
'Let us not be selective,' Solicitor General said while insi...
Counting of votes will take place on May 13
Deplores attempts by Rahul Gandhi to draw parallels between ...
Petitioner sought more time from the court for producing evi...