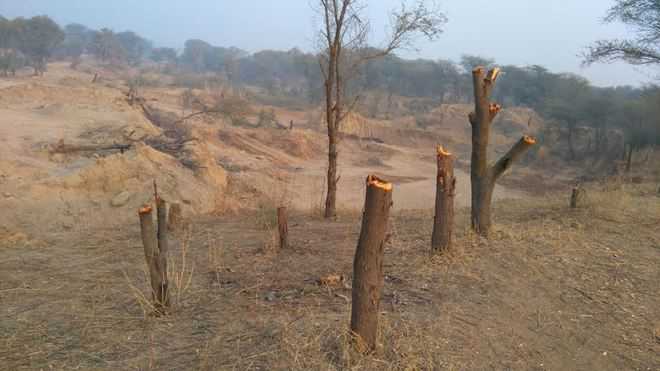 editorial@tribune.com
Ravinder Saini
Tribune News Service
Mahendragarh, December 31
Illegal felling of large number of trees in the Krishnawati region has set alarm bells ringing for the Forest Department. Mahendragarh DC Atul Kumar has submitted his report to the higher authorities, seeking a probe into the case.
Taking a serious note of the DC's report, the state Forest Department authorities have also initiated an inquiry into the case and directed its Range Officers Abhay Yadav and Prem Singh to assess the loss by counting the number of trees axed in the region.
Sources said the Forest Department would take action against Om Minerals, a private mining firm, for cutting trees in their lease area.
Mining Officer (MO) Bhagirath Vashistha said though the firm had taken the land on lease in the Krishnawati area for gravel mining in 2013, but the area was handed over to it on December 5.
"The trees have been axed by Om Minerals as the gravel mining cannot be carried out without cutting the trees. The firm should have obtained permission from the Forest Department before axing the trees in their lease area, but it did not do so," said District Forest Officer (DFO) Sunder Lal. He said appropriate action was being taken against the firm.
He said the Punjab Land Preservation Act (PLPA) had the provision to slap penalty on those axing the trees without official permission.
Narnaul SDM Vivek Kalia had, on Tuesday, conducted a spot inspection to inquire the matter and observed that such a huge numbers of trees could not be axed without collusion with the forest officials.
In his report submitted to the DC, the SDM had also recommended recovery of the loss from the salary of the guilty officials.
Meanwhile, the DC said the Additional Chief Secretary (Forest) had directed the Forest Conservator in Gurgaon to look into the matter.