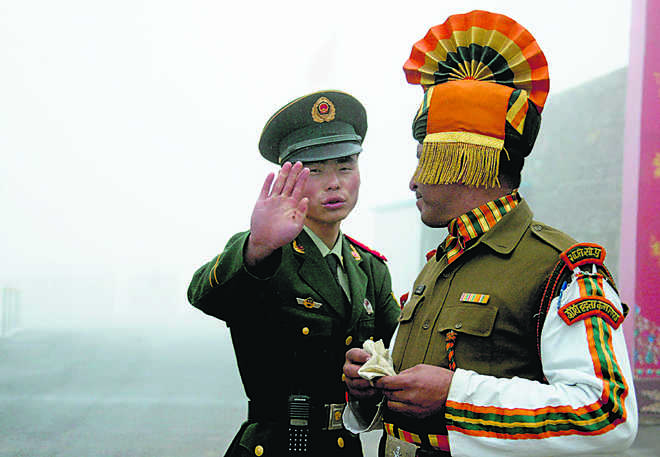 shalender@tribune.com
Ajay Banerjee
Tribune News Service
New Delhi, November 22
India and China have finally firmed up dates for resumption of their bilateral military exercise 'Hand-in-hand', with the two-week drill set to kick off at Kunming in south-east China on December 10.
The Indian Army will be represented by the 11th battalion of the Sikh Light Infantry. The exercise was originally planned in October-November last year, but China backed out in May following the 73-day (June 16-August 28) Doklam standoff. China was to be the host, as per an arrangement to conduct it in each country by rotation. India had hosted it in 2016.
So far, there have been six editions of the exercise. It was suspended for five years (2010-14) after China refused visa to then Northern Army Commander Lt Gen BS Jaswal claiming Jammu and Kashmir was a "disputed" territory. In a turnaround to that stance, the two armies conducted their first-ever joint drill in eastern Ladakh (Jammu and Kashmir) in October 2016.
The talk of resuming the exercise had started in March this year when Prime Minister Narendra Modi and Chinese President Xi Jinping had met at an informal summit in Wuhan and issued "strategic guidance" to their respective militaries. "Build trust and have a mechanism to prevent incidents in border regions," said a statement issued from Wuhan.
In June, almost an year after Delhi and Beijing were locked in military stand-off at Doklam, the People's Liberation Army troops conducted a three-day tactical exercise close to last year's confrontation point at the tri-junction of India, China and Bhutan border. The only difference was India was informed in advance. The drill was conducted from June 6-8 near Chumbi Valley, a Chinese territory located between Sikkim and Bhutan that India literally overlooks — 25 km at widest and 2 km at its narrowest.