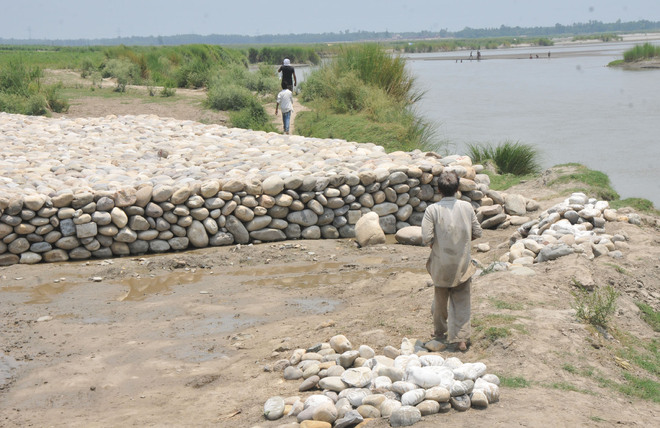 editorial@tribune.com
Parveen Arora
Tribune News Service
Karnal, June 24
Pre-monsoon showers have lashed the region, raising hope for monsoon to set in soon. But farmers and residents living along the Yamuna are a worried lot, as the work to prevent floods is incomplete. Farmers say the district administration and the Irrigation Department have learnt no lesson from the past experiences and shown "lethargic" attitude in maintaining the river bank breached during the monsoon every year.
Stones have been dumped along the river bank to plug the breach, but work on studs has not started; old studs have not been repaired.
In Karnal, there is always a threat of flash floods because of discharges from the Tajewala headworks in Yamunanagar. More than 30 villages along the Yamuna face the fear of floods and the worst affected villages are Garhpur Tapu, Nabiabad, Nabipur, Jammu Khala, Mustafabad, Dakwala, Lalupura, Sadarpur, Mundugarhi, Nasirpur, Bazidpur and Shergarh Tapu, among others.
Farmers point out the department starts working when the monsoon is about to arrive and, by that time, it is too late. For them, two months of floods are no less than a nightmare as water level could breach anytime.
Ram Mehar, a farmer of Dhakwala village, points to the breach in the river. "As the monsoon is about to arrive, the fear of floods looms large. Like every year, the department is ill-prepared to deal with floods this time as well. All it has done is to dump stones at the river bank. The work on studs should have begun earlier."
His view finds an echo in another farmer's contention. "The reason for flash floods every year is the lethargic approach of the administration and the department. For two months, villagers face trouble," says Mani Ram.
"At present, there are several points where the banks of Yamuna are broken and need attention. But no one is bothered. Whenever it rains, the administration steps in to do cosmetic changes," said Ram Chander, a farmer of Jammu Khala village.