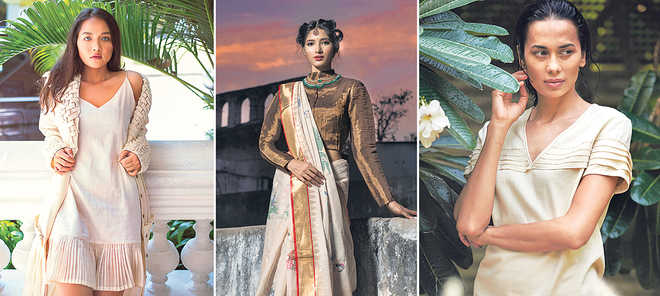 singhking99@yahoo.com
Bindu Gopal Rao
In a country like India, eco-friendly fabrics have always been part of the realm of regular life, much of it courtesy khadi, a symbol of Indian textile heritage. Ethical fabrics essentially mean safe on the environment, with least carbon footprint; fabrics which are either biodegradable or could be recycled. Organic cotton, tencel (made of cellulose wood pulp from sustainable tree farms and employing nanotechnology to decompose all solvents and emissions), liva, bamboo fabric and the like are considered ecofriendly fabrics.
Green vibes
Manufacturing of fabric releases tons of greenhouse gases and its dyeing releases micro plastics and other pollutants in water streams. Eco-friendly or sustainable clothing tries to combat these issues. "Typically, eco-friendly clothing would have been made from environmentally sustainable fabrics, the manufacturing of which has minimal ill effects on the environment. The dyeing of these fabrics is done in azo-free or natural dyes. Azo is a carcinogenic chemical that is widely used as a dye in the textile industry," says Pooja Khanna, who runs a sustainable brand.
The experiments
Traditionally, hemp, linen, bamboo and ramie are considered eco-friendly fabrics. Clothes made using raw materials like cotton, grown without using pesticides, or silk made from worms raised on organic vegetation and made without harmful chemicals, dyes or bleaches qualify as eco-friendly.
But, today, designers are working towards developing their own fabrics too. The desire for pursuing sustainable fashion led designers Didier Lecoanet and Hemant Sagar to develop Ayurganic fabric. It is woven by hand and bonded in aloe vera, eliminating chemical at every process.
Designer Nupur Saxena says today yarns derived from milk proteins and soy proteins are being worked upon to arrive at textures like silk and cashmere. Designer Sailesh Singhania says he has researched diverse materials with reduced environmental impact. "We must understand that it takes human intervention as well as resources drawn from our environment to create the products that we surround ourselves with," he says.
People are more aware of the repercussions of fast fashion and are acting responsibly towards Mother Earth. "The idea is to buy less and to use products that have longer shelf lives. However, since the 'trend' in itself is ever-changing, the idea behind switching to slow fashion is to do with elimination of the idea of trends itself," aver Lecoanet and Sagar.
A major challenge for designers, at the moment, is the low level of customer awareness. Khanna says they need favourable government policies to shift consumer behaviour and make the market friendlier for those spearheading the shift.
Making it work
So, how does one make a switch to sustainable fashion and maintain that too? In India, the general perception is that sustainable fashion is luxury, but experts say this is incorrect. They say things become easy when you decide not to be trapped in the vicious cycle of trends. They advise using fashion for expressing yourself with breathable fabrics and easy silhouettes, which range from the humble saree to the chic little black dress. The possibilities in sustainable fashion are endless and that's the beauty of it, say experts. Monochromatic khadi dresses, intricately woven khadi jamdani sarees and clothes made from tussar silk are most appreciated.
Top Stories