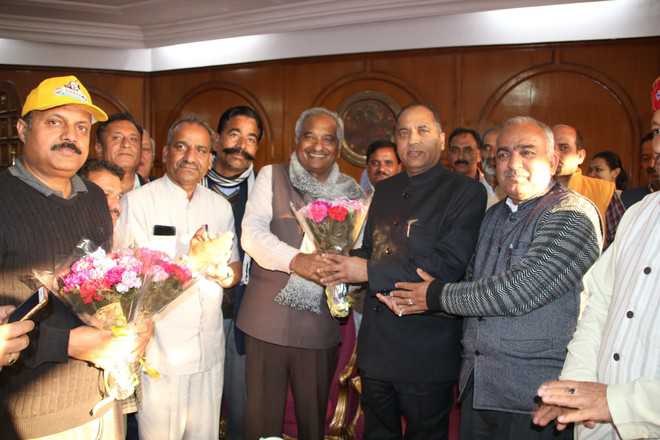 editorial@tribune.com
Tribune News Service
Shimla, April 20
Firebrand leader and former minister Mohinder Nath Sofat today rejoined the BJP after six years.
Sofat, who joined the party in the presence of Chief Minister Jai Ram Thakur and in charge for Lok Sabha poll Tirath Singh Rawat, Cabinet ministers Govind Singh and Suresh Bhardwaj, said he had been ideologically with the BJP for the past four decades.
Sofat, who was active during emergency and was given party ticket from Solan in 1990, was minister in the BJP government, headed by Shanta Kumar, and quit the party in 2002 when party ticket was denied to him.
He was admitted to the party in 2004 ahead of the Lok Sabha poll but was not actively involved in party affairs and again quit the party and joined the Himachal Lokhit Party, floated by BJP dissidents in 2012.
The HLP merged with the BJP before the Assembly poll in 2016 but Sofat and a few other leaders refused to join the BJP as he had sharp differences with the state leadership and some members of the breakaway group of the HLP. Sofat joined the Aam Aadmi Party (AAP) in 2017.
After a change in the party leadership and installation of Jai Ram Thakur government, he had no reservations in joining the party.
Sofat who joined the BJP, along with his 40 supporters, including pradhans and BDC members, said he would work for the victory of the party and perform any duty assigned to him. Welcoming Sofat, Chief Minister Jai Ram Thakur said the homecoming of Sofat would strengthen the party in Solan district.
Journey so far
Mohinder Nath Sofat was minister in the BJP government headed by Shanta Kumar
He quit the party in 2002 when party ticket was denied to him
He was admitted to the party in 2004 but was not actively involved in party affairs
Again quit the party and joined the Himachal Lokhit Party, floated by BJP dissidents in 2012
The HLP merged with the BJP before the Assembly poll in 2017 but Sofat and a few other leaders refused to join the BJP
Sofat joined the Aam Aadmi Party in 2017