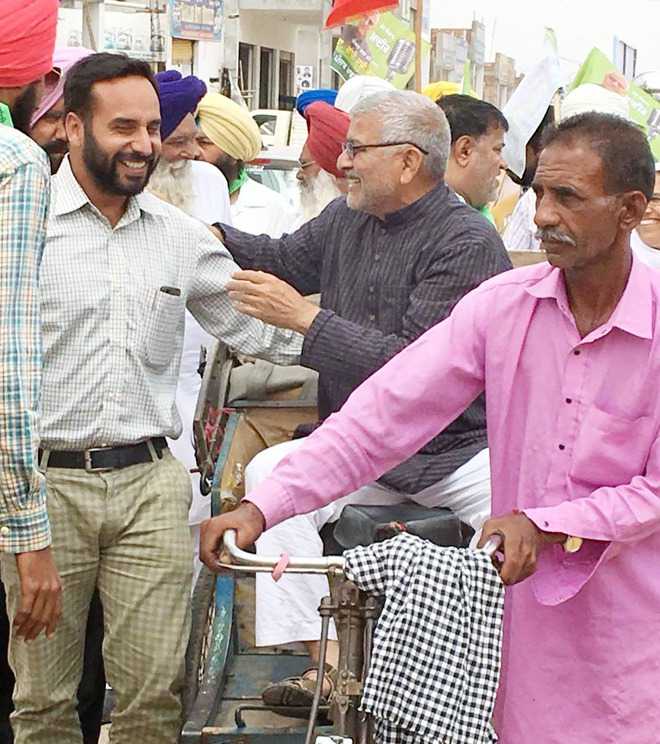 Aman Sood
Tribune News Service
Patiala, April 24
The incumbent MP and Punjab Democratic Alliance (PDA) nominee from the Patiala constituency, Dr Dharamvira Gandhi is relying on direct contact with voters and propagating the need for "opium and poppy husk farming in the state" to save farmers. Perhaps he is one of the few incumbent MPs in the country who is asking for votes and money from the gathering to keep his campaigning afloat.
"I spent every penny of my MPLAD funds and ensured that villages with common cremation grounds are given priority. Now my priorities are farmers and the youth for whom I am committed to do something in my next term," says Gandhi. Fighting on a "mike" symbol, he carries his own mike to save costs and ensures to tell voters that he is not an AAP candidate.
Facing tough competition from royal scion Preneet Kaur and former Cabinet minister Surjit Rakhra, Dr Gandhi is holding small worker meetings and even collecting cash to run his campaign. Riding on a rickshaw, he is on a touring spree across the constituency urging people to vote for him and even seeking donations to fuel his campaign.
Gandhi has even resorted to online crowdfunding to finance his campaign for the polls. However, both online and personal funding campaigns are a hit and people are offering money and sparing time to listen to him.
"I am against drugs and alcohol sale, but farmers need opium cultivation to ensure that their debts are taken care of and they are less dependent on government subsidies," he says.
"Time has come to grow less harmful natural intoxicants, including poppy and marijuana, as growing them will put an end to an interstate smuggling of drugs," he says.