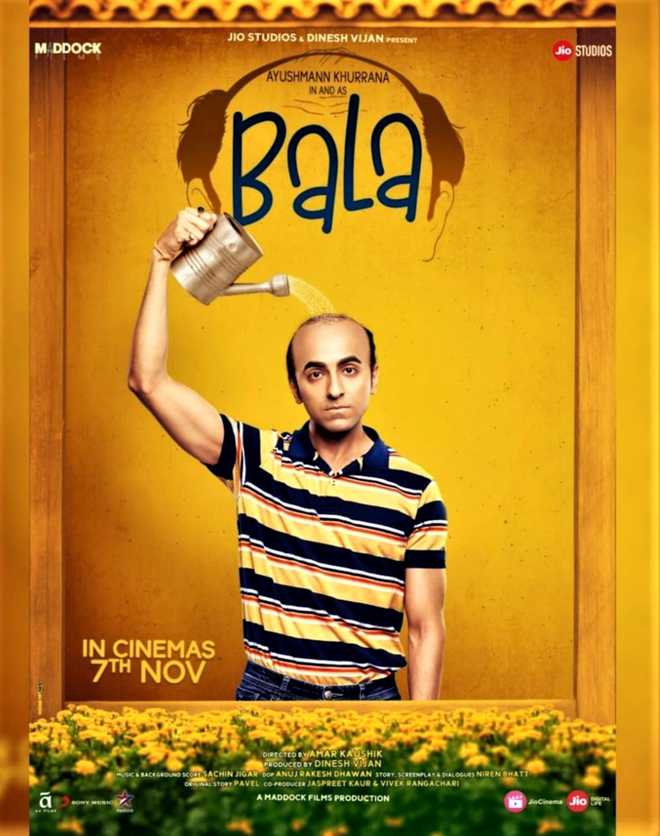 editorial@tribune.com
Manpriya Singh
As Ayushmann Khuranna is almost driven to the extent of applying cow dung on his scalp (in the trailer, of course) in his upcoming film Bala, the makers subtly put forward the message; sometimes you don't need a tip fixing the baldness, all you need is a psychologist looking deep into your mindset. Or, a stylist taking care of the look. And, some 'starry starry' inspiration! Celebs, who didn't fix things with a fibre hair spray, but turned things around by embracing baldness.
Back in 2013, American actor and director Jon Cryer (from the Two and a Half Men) confessed in a chat show about his wigs to hide baldness for public appearances. And even went onto admit, "My spectacular mane is all gone now. The hair on my head that you see right now is the work of all talented professionals making the most of four hair."
Talented professionals they have all access to (for that matter four hair too), but imagine a Jason Statham or a Vin Diesel with a full mane. Blogs on how to rock these action stars' bald style galore.
Commenting on the seriousness of the issue, said Ayushmann around the trailer launch, "I have a lot of friends, who have premature baldness. It's a huge issue even though thankfully my hair is in place. Though it's a serious issue, we are tackling it in a funny way." Given also Bollywood's latest obsession with the common-man hero, and the common causes of insecurity among men, coming up is also Sunny Singh's Ujda Chaman, the story of a man in search of a beautiful wife, while dealing with premature baldness.
Hair loss is multi-factorial and primarily with those factors at play, little can be done. But what can be done, however, is the clothes we weave around that hairstyle. Delhi-based stylist, Mrighdeep Puri, having worked for a men's magazine, says, "The best way to carry off balding with aplomb is to either wear funky headgear or shave off the complete mane and then resort to formals. It's not just in the West, examples closer home galore." Does that immediately take us to the likes of Punjabi singers Zora Randhawa and Garry Sandhu?
The widow's peak, alopecia or a receding hairline, whatever the male pattern baldness, sometimes all you need is a look at the celebs setting the right examples, who embraced things. Although mega star Rajinikanth does need a wig in his films, he doesn't use any off screen. For that matter Prince William too and speaking of English men, since the most are affected by baldness, there's Jude Law right up there. Once upon a time, a strong contender for James Bond with his mane-less look intact.
Dr Vivek Thakur, associate professor, Babe Ke Medical College, recalls of baldness setting back in college. "At that time, I used to feel bad, it made me conscious. As I passed out of college, it turned to acceptance. I was okay with it, but now when I am a medical professional, in fact, my unique hairstyle gives me confidence, as it gives a professional look."
That's the cure many viewers hope to find in the movie too. The one that works sans side effects.