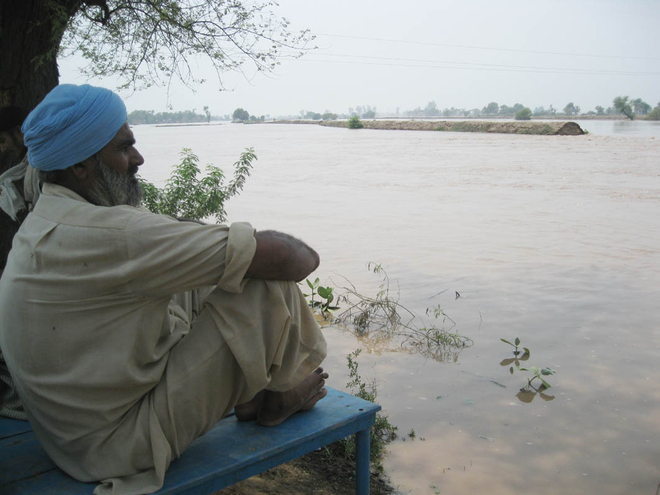 editorial@tribune.com
Sushil Manav
Tribune News Service
Sirsa, June 24
Come monsoon and those living in villages along the Ghaggar river in Haryana and Punjab start getting sleepless nights for the fear of floods that intermittently ravage the region.
During floods, Ghaggar has the propensity to wreak havoc in Ambala (by Tangri river that eventually empties into Ghaggar), Kaithal, Patiala, Sangrur, Mansa, Fatehabad and Sirsa districts of the two states, destroying crops, houses, roads and railway lines and other infrastructure. Fatehabad and Sirsa districts, where the river covers almost 140 km, are among the worst hit.
Originating from the Shivalik Hills in Himachal Pradesh, Ghaggar makes a serpentine way from east to southwest though several districts of Punjab and Haryana to enter Rajasthan and then travel into Pakistan.
Ghaggar has been a source of misery for people living along its 350-km length in the two states since long, though the magnitude of its fury varies from year to year depending on rainfall in its catchments areas.
"The floods in the Ghaggar basin are frequent and furious because of gentle slope and a lack of horizontal drainage. The river has braided channels such as Rangoi Nullah that flow in narrow channels and overflow the banks due to the lack of slope in the eventuality of increasing surface flow," says Mahabir Jaglan, a professor of geography, KU.
He further says floods in the region often become more destructive and has long-lasting effects due to encroachments in the riverbed and obliteration of surface drainage because of constructions of roads, railway lines, canals and urban expansion. "The contours of natural slope and surface drainage have not been taken into account while preparing the layout of infrastructure development."
"During floods, water enters fields when the river crosses the Bhakhra Main Line canal through siphons at Khanauri in Punjab and the Bhakhra Main Branch near Jakhal in Haryana, which are considered vulnerable points for floods," says Niteesh Jain, Superintending Engineer, Irrigation, in Fatehabad.
Jain said the department has increased the capacity of Rangoi Nullah from 7,000 cusecs and cleaned various drains.
Prof Jaglan says not much is required to prevent floods. "It has been left to the local authorities to evolve mechanisms for its mitigation. The authorities have been found wanting at the time of floods because of the lack of a disaster management plan."