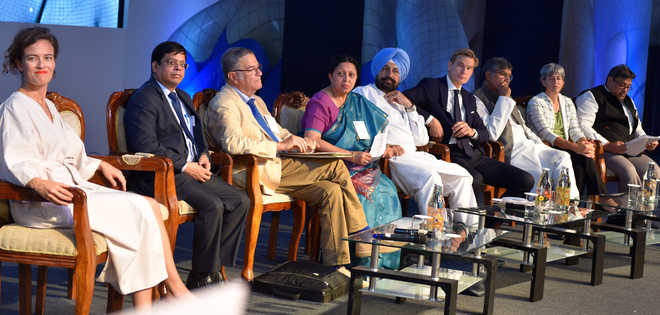 editorial@tribune.com
Tribune News Service
Chandigarh, September 11
An exhibition, 'For the greatest benefit to humankind', was inaugurated at National Agri-Food Biotechnology Institute (NABI) in Mohali today.
The exhibition highlights how Nobel Laureates have made the world a better place – showcasing discoveries and achievements that have saved lives, fed humanity, connected people and protect the planet. It was a part of the Nobel Prize Series India-2019, a three-day programme that will travel to Ludhiana and Delhi, highlighting issues related to education and learning.
A special conference for teachers was also organised at NABI.
"Research and innovation are tools that enable understanding of global challenges as well as finding solutions for the same. The interaction with Nobel Laureates will indeed help immensely in igniting minds of our young researchers, students and teachers to align their pursuits with the vision of the state government," said RK Verma, IAS Principal Secretary to Punjab, Department of Science Technology and Environment.
The Nobel Prize Series India brings Serge Haroche, who was awarded the 2012 Nobel Prize in Physics, and Kailash Satyarthi, recipient of the 2014 Nobel Peace Prize. They will be accompanied by Juleen Zierath, professor of clinical integrative physiology and a member of the Nobel Committee at Karolinska Institute in Sweden. May-Britt Moser, who was awarded the 2014 Nobel Prize in Physiology or Medicine, will take part in a virtual session.
"Two basics of humanity are consciousness and compassion. We are all born with compassion. Anger should not be driven by hatred, ego or revenge. It should be given a vent in good ideas and action," said Kailash Satyarthi.
The exhibition in Mohali is open to public from September 12 to October 11 from 9 am to 5 pm
The Nobel Prize Series India 2019 is organised by the Nobel Media, in cooperation with Department of Biotechnology (DBT), Ministry of Science and Technology and the Government of Punjab, with support from international partners — 3M, ABB, Ericsson, Scania and Volvo Cars.
Host institutions in India are being supported by the National Agri-Food Biotechnology Institute (NABI) and Punjab Agricultural University.