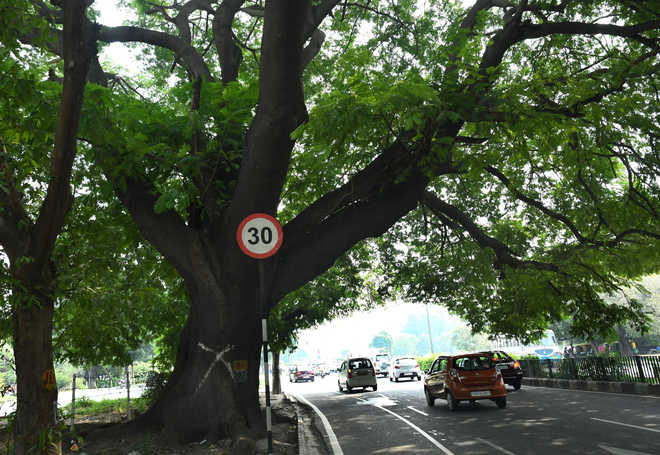 editorial@tribune.com
Ramkrishan Upadhyay
Tribune News Service
Chandigarh, October 9
The UT Administration will seek the help of experts from Vietnam to replant trees which will be uprooted for the Tribune flyover.
Sources said the Forest Department, in its proposal submitted to the Administration, had proposed to seek the help of experts from Vietnam to save the trees.
The sources said large-scale replantation had been successfully in Vietnam in the past. Keeping this in mind, it was proposed to seek the help of experts from the country to give a new lease of life to the trees which would be uprooted.
A number of mango and kikar trees on Dakshin Marg in the Industrial Area, Phase I and II, are coming in the way of the Tribune flyover. Environmentalists are opposing the felling of the trees.
The issue has reached the Punjab and Haryana High Court. The environmentalists argue that these trees are not only adding to the green cover, but are also checking pollution caused by heavy traffic on Dakshin Marg and the surrounding Industrial Area.
The felling of these trees would cause harm to the environment. The Tribune flyover has been planned to ease traffic on the congested Dakshin Marg, especially at the Tribune roundabout.
The Administration has already started a drive to plant at least six trees in lieu of every tree uprooted during the construction of the Tribune flyover. Around 545 trees coming in the way of the flyover would need to be cut. The department has also proposed to replant one of the oldest trees at Tribune Chowk. Manoj Kumar Parida, UT Adviser, launched a plantation drive in Sector 51 recently where over 700 saplings were planted in the Leisure valley.
Ready to replant these free of cost: Environmentalist
While the Forest Department is exploring various options to replant trees, city-based environmentalist Rahul Mahajan has offered to replant all trees free of cost. Mahajan said he would only need a JCB machine from the Administration and would bear all expenses on the replantation. Mahajan has successfully replanted over 100 trees in the city and the nearby areas so far. He said when expertise of replantation was available locally, where was the need to look for experts from other countries.
Top Stories