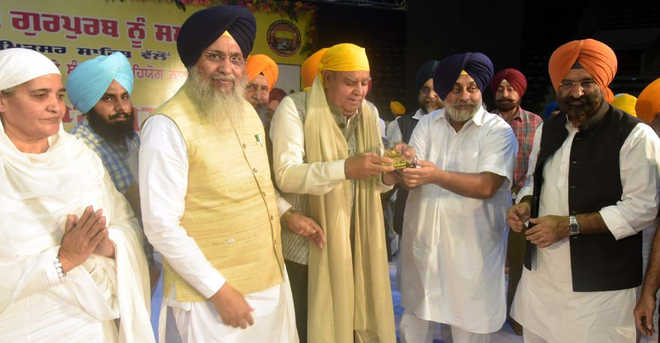 Tribune News Service
Kolkata, August 11
A function jointly organised by the Dharam Prachar Committee of the SGPC and Guru Singh Sabha, Kolkata, to celebrate the 550th birth anniversary of Guru Nanak turned out to be a star-studded affair with top Akali leaders, including SAD president Sukhbir Singh Badal, attending the event here today.
Former SGPC chief and SAD women wing president Bibi Jagir Kaur, SGPC chief Gobind Singh Longwal and Akhal Takht jathedar Harpreet Singh also took part in the event. From the West Bengal side, Governor Jagdeep Dhankar and two senior ministers graced the function. Giani Harpreet Singh, Akal Takht chief, said, "Two big programmes are being held in Sultanpur Lodhi (in India) and Nankana Sahib in Pakistan in connection with the 550th birth anniversary of Guru Nanak Dev. We are holding functions across the country and abroad".
The Akal Takht jathedar said the Kolkata function held at the Netaji Indoor Stadium today was part of the series of functions being organised by the Dharam Prachar Committee of the SGPC to spread the ideas and principles of Guru Nanak Dev.
Addressing the "sangat", Sukhbir Singh Badal said compared to other major religions, Sikhs were a small group of people, but they good reputation and enjoyed great respect. Successful Sikh professionals such as doctors, engineers and businessmen could be found all over the world, he said.
Calling it a memorable occasion, West Bengal Governor Dhankar said Guru's teachings were significant for society reforms and applicable across all spheres.
Dhankar said he felt privileged to have attended the function as Guru Nanak Dev had always had a special place in his heart. The Governor thanked SAD leader and Union Minister Harsimrat Kaur for speaking to him over the phone and requesting him to attend the function.