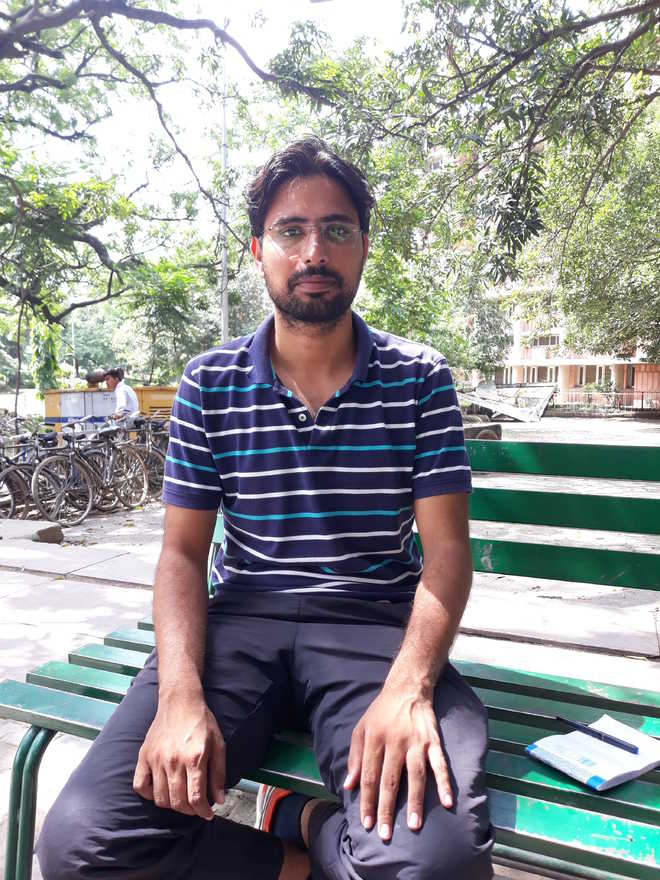 editorial@tribune.com
Bhartesh Singh Thakur
Tribune News Service
Chandigarh, August 26
Students for Society (SFS), a symbol of alternative politics on Panjab University (PU) campus and the biggest left party of the varsity, is not aligning with other leftist outfits and is fighting alone this year too.
Last time, its presidential candidate Hassanpreet Kaur came second with a margin of 611 votes. Though, the 2017 student elections was being talked as the best chance for the SFS as the party was seen as a big mobilising force in the backdrop of infamous stone pelting incident of April 11 last year. The protest was against massive fee hike on campus.
However, this year there is no big campaign or protest or demand behind the SFS. Like other parties, it has targeted freshers too. Duties have been assigned to party leaders to introduce the organisations among the freshers. In an interview with Chandigarh Tribune, SFS leader and party media in-charge, Harman Deep, talks about issues, strategy and influence of the PU authorities in the upcoming student elections.
Why did you lose last year?
The PU authorities played an important role in the National Students Union of India (NSHUI) victory. Supervisors pressured research scholars. Some were even asked to bring a picture of stamped ballot paper. Also, personal contact matters a lot. We are much weaker here. We are not that experienced in contesting elections like others.
However, this year we have been contacting freshers right from their admission, unlike last year.
You have always given president's post to a woman or Dalit. Is it deliberate?
We have an understanding that suppressed sections of society should grow within the organisation. We have preferred them to contest elections, but they are among the best in the party too. Hassanpreet Kaur, who contested on president's post last year, was the best candidate we had.
You have been holding protests along with another leftist outfit, Punjab Students Union (Lalkaar). But you do not align with them for polls.
We believe that there shouldn't be an alliance just for votes. The parties should contest separately on their own programme. We have ideological differences with the PSU (Lalkaar). They don't support reservation, while we are in favour of it. We think that society is feudal and imperialistic and situation could change with democratic revolution. PSU Lalkaar believes in socialist revolution. Had the RSS been winning the elections, we would have aligned with the PSU (Lalkaar) to stop it. There is no chance for the ABVP, which is a students' wing of the RSS. We see the NSUI as our main opponent, though that too depends if authorities support them again. So, there is space for all.
Last year, fee hike was a big issue. You protested and stone pelting took place. You earned support as well as lost some supporters too. But we haven't seen a major protest by the SFS this year. On what issues will you mobilise students?
Hostel allotments and construction of new hostels are a big issue. We will fight for faculty recruitment too. In these elections, we will raise department-level issues. Our first protest in 2010 was on a departmental issue at the UICET. Even other parties did not have any major achievement in the last one year.
Can a centrist vote for you? Last time, you sought votes from those who believed in your ideology.
We get all support from centrists. We are seen as simple, those who don't go for opportunistic alliance and who struggle for students' issues. We believe in Bhagat Singh's ideology. We are mobilising through street plays, poetic evenings etc. Others are mobilising through parties in discotheques.