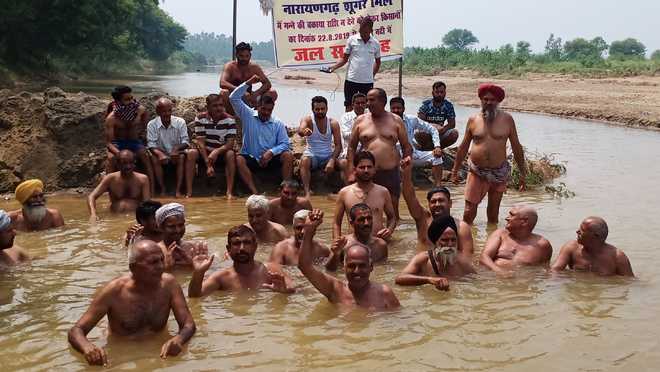 Tribune News Service
Ambala, August 24
Chief Minister Manohar Lal Khattar has taken note of the "Jal satyagraha" by more than 5,000 Naraingarh farmers and formed a panel led by Chief Secretary Keshni Anand Arora to resolve the matter concerning non-payment of Rs 80-crore dues.
The committee comprises Additional Chief Secretaries of Departments of Agriculture, Power, Cooperation and Finance.
"The Chief Minister wants a report from the committee by August 29," CM's Principal Secretary Rajesh Khullar said.
Farmers, however, were unmoved by the formation of the committee. They continued their protest on the banks of the Begna river for the third consecutive day on Saturday.
They said they had lost faith in the government as their grievances had remained unaddressed for more than seven months. "This time, we will not relent and will continue our protest till we are paid our money," one of the farmers said.
The Naraingarh sugar mill has withheld Rs79.5 crore pending since January.
Having removed their clothes as a mark of protest, farmers have been raising slogans against the mill management. They have threatened to step up the agitation if their dues are not cleared immediately.
When contacted, a mill spokesperson said the management was trying hard to arrange funds and get its dues cleared from the state government. "As soon as the government pays us, we will clear farmers' dues," he added.
Hooda slams govt
Former CM Bhupinder Singh Hooda on Saturday called the BJP government 'anti-farmer' for not clearing the dues of sugarcane farmers, who are protesting in Naraingarh for eight months. Hooda said, "The BJP, in its election manifesto, had promised farmers that they would get their payments within 24 hours, but the party has not kept its promise." TNS